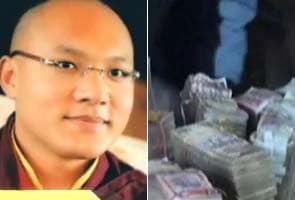 Dharamsala:
Police in Dharmshala today arrested a hotelier named K P Bhardawaj in connection with the Tibetan leader Karmapa's suspected plan to set up China-friendly institutions across the Himalayan region.
The hotelier's arrest came after an amount of Rs 1 crore was recovered form a car a few days ago. The cops have arrested five people so far and raids are being carried out at a few places. Among others who are being questioned are a banker and a a property dealer.
Speaking to NDTV, Assistant Superintendent of Police, Dharamsala K G Kapoor said that Karmapa is being subjected to another round of questioning. "So far he is cooperating," he added.
A team of Research and Analysis Wing (RAW) and Intelligence Bureau (IB) is in Dharamsala currently for the second round of questioning of Karmapa for his alleged Chinese links.
Two of Karmapa's accountants have already been arrested.
Authorities are probing a suspected plan of the Tibetan leader to buy land and establish China-friendly institutions across the Himalayan region.
Karmapa's accountant was held with cash worth Rs. 8.5 crore, in various currencies, meant to buy a 5-acre plot in in Kangra district of Himachal Pradesh.
India believes that the Karmapa was planning to use this money to set up a new monastery that would be China-friendly, and would work on influencing others in the area to follow a similar bent.
Officials say this was the Karmapa's third attempt to buy land in Kangra. Earlier attempts in 2007 and 2008 were stalled after the RBI and Enforcement Directorate got involved in studying the source of funds.