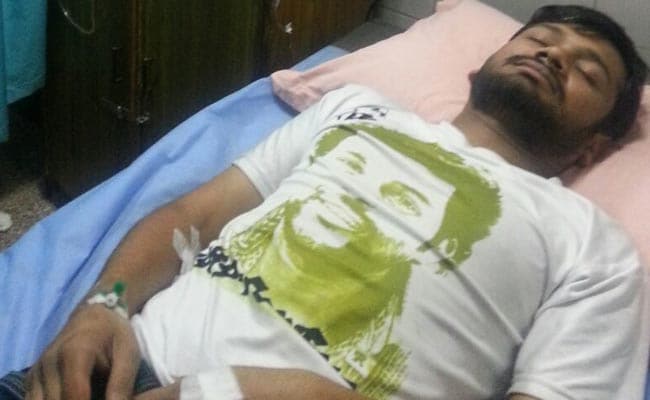 New Delhi:
Jawaharlal Nehru University (JNU) Students' Union president Kanhaiya Kumar on Friday called off his hunger strike, to protest the punishment announced by the varsity administration in connection with the February 9 event, after his health deteriorated.
"Kanhaiya Kumar and four other students have called off the strike after their health was seriously affected," said a Jawaharlal Nehru University student. It was the ninth day of their fast.
"Kanhaiya's BP (blood pressure) dropped to 56 and his glucose levels also dipped drastically," he added.
Mr Kumar was taken to the JNU health centre in a semi-conscious state, where "the doctor warned him of chances of internal damage to organs if he continued with the fast," said a statement by the JNU Students Union.
The student leader was admitted to the All India Institute of Medical Sciences on Thursday after he went semi-conscious and his ketone level rose up to the dangerous level of four.
"There is nothing to worry as nothing serious has happened to him. It was just mild dehydration," said a statement from AIIMS. He was discharged later.
Mr Kumar, and 18 other students had gone on a hunger strike from April 28 to protest against the punishment handed out to them by a high-level committee that probed the February 9 event where anti-national slogans were allegedly raised.
Following the event, Kanhaiya Kumar, Umar Khalid and Anirban Bhattacharya were arrested on sedition charges.
The committee report, which was released on April 25, fined Kanhaiya Kumar Rs 10,000 and rusticated Umar Khalid and Anirban Bhattacharya for one semester each.
On day nine, the remaining 14 students continued their hunger strike despite the authorities calling the activity "unlawful".
In a note to students, JNU Vice Chancellor M Jagadesh Kumar had said: "Hunger strike is an unlawful activity and a harmful method of protest that adversely affects the health and career of students. The administration urges the students to use constitutional means to put forth demands, if any."