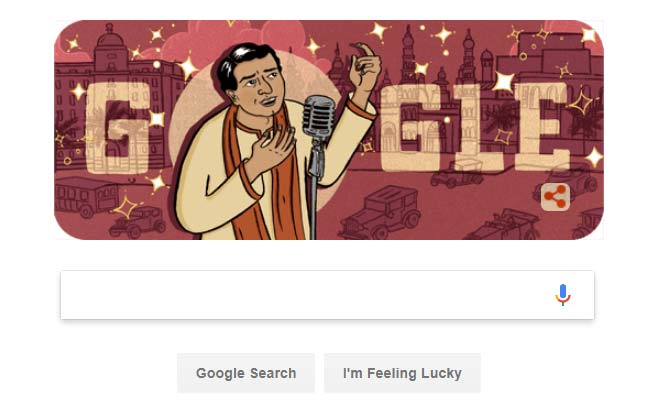 New Delhi:
Actor-singer
Kundanlal Saigal
, or K. L. Saigal, was born on April 11, 1904. On his 114th birth anniversary, Google honoured the versatile artiste with a Google Doodle. Known for his unique voice, K. L. Saigal has sung over 185 songs throughout his career. He also established himself as one of the first true Bollywood superstars and worked on 36 films in three languages - 28 in Hindi, seven in Bengali, and one in Tamil. Some of his most popular and successful movies were Yahudi Ki Ladki, Bhukt Surdas, Tansen, Devdas, Street Singer, Lagan, among others.
10 Facts About K. L. Saigal You Should Know:
Due to K. L. Saigal's modest background, as a child he earned his music education informally, singing along with people at a local shrine or at religious ceremonies with his mother.
He worked several odd jobs, a timekeeper, salesman, and manager, pursuing singing on the side.
KL Saigal's first break came in 1932 when his first film, Mohabbat Ke Ansu, was released.
For his first three films, he used the name Saigal Kashmiri and used his own name Kundan Lal Saigal (KL Saigal) from his fourth film Yahudi Ki Ladki which wasreleased in 1933.
While the Jammu-born star started his career singing Punjabi songs, he picked up Bengali and acted and sang in several Bengali films.
In the movie Street Singer, KL Saigal rendered the song "Babul Mora Naihar Chhooto Jaye" live in front of the camera despite playback singing was a preferred mode of singing at that time.
As a singer, K. L. Saigal has given memorable melodies like "Jab Dil Hi Toot Gaya", "Bangla Bane Nyara", "Balam Aaye Baso Moray Man Mein", Do Naina Matware, "Mere Sapnon Ki Rani" among others.
K. L. Saigal had turned alcoholic and died at an early age of age of 42 in his ancestral city of Jalandhar on January 18, 1947.
He was survived by his wife Asha Rani and four children. While Madan Mohan, Nina and Bina were his biological children, he had also adopted his late elder brother's daughter Durgesh Nandani when he was still single.
K. L. Saigal's distinctive singing was revered and idolised by Hindi Film playback singers, including Lata Mangeshkar, Kishore Kumar, Mohammad Rafi, and Mukesh.
Get the latest election news, live updates and election schedule for Lok Sabha Elections 2019 on ndtv.com/elections. Like us on Facebook or follow us on Twitter and Instagram for updates from each of the 543 parliamentary seats for the 2019 Indian general elections.