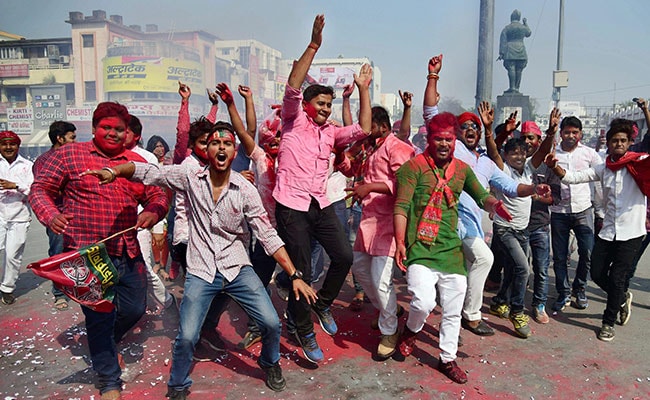 New Delhi:
Senior Samajwadi Party leader Ramgopal Yadav on Wednesday refused to comment on the possibility of an alliance with the BSP for the next Lok Sabha elections in 2019, saying "just wait and watch".
Talking to reporters outside Parliament, Mr Yadav said that the victory of the SP in both Gorakhpur and Phulpur Lok Sabha bye-elections was a referendum against the Yogi government.
"Me and my party are grateful to the BSP and its workers who worked hard to ensure the victory of the SP candidate in these by-polls. As far as 2019 general elections is concerned, just wait and watch. And hope for the best," Mr Yadav said.
Most of the SP MPs in the House were today seen wearing the party's traditional red cap.
Speaking in the well of the Lok Sabha, SP MP Dharmender Yadav attacked the Gorakhpur DM for allegedly delaying the announcement of the initial trends of counting.
The SP today wrested both the Gorakhpur and Phulpur Lok Sabha seats from BJP, which had won them in 2014 general election.
BSP, the SP's arch-rival, had extended support to the Akhilesh Yadav-led party in these bypolls
The victory on these two seats assumes significance as Gorakhpur was won by Chief Minister Yogi Adityanath, while Phulpur was won by Keshav Prasad Maurya, who is currently the deputy chief minister of the state, in the 2014 elections.
Both Yogi Adityanath and Mr Maurya resigned from their respective Lok Sabha seats after they were appointed as leader and deputy leader of the BJP government in the state last year.