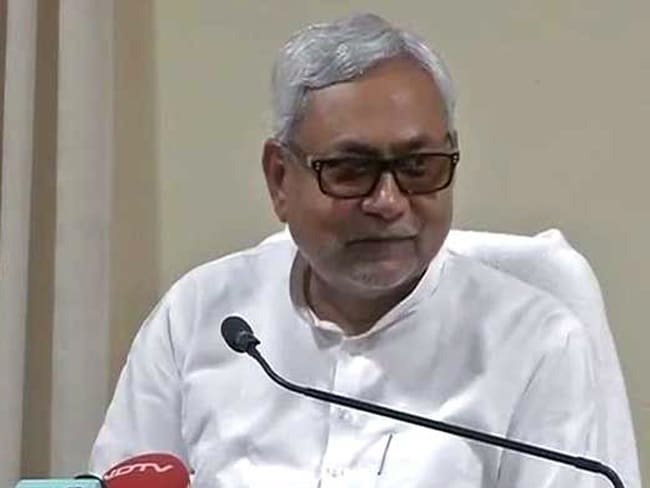 Patna:
Bihar Chief Minister Nitish Kumar today sought to dispel apprehensions about the return of 'jungle raj' following the alliance between his JD(U) and Lalu Prasad's RJD for the coming assembly election and said there was no question of it as long as he was there.
"Till I am there jungle raj can never come. I had established rule of law and this will continue to prevail," Mr Kumar, who has been at helm of affairs in the state since November 2005 except for brief period when Jitan Ram Manjhi occupied the chair, said.
The bogey of return of 'jungle raj' in Bihar had been raised by opposition BJP following the alliance between JD(U) and RJD.
Mr Kumar was speaking after president of state association of oilmen caste, Krishna Prasad took membership of JD(U) at the chief minister's residence.
He said that fear (of crime) had vanished from the mind of people of the state.
Attacking at BJP for its comments against the alliance, Mr Kumar said the party wished to gain votes by showing threat of minorities to the majority Hindu community and raising the cry of "jungle raj".
"Only that party should form government in the state which can work for its progress," he said.
Referring to neighbouring Jharkhand, he said it has a BJP government. "But no decision is taken in Ranchi, order comes to them from Delhi through Whatsapp ... Jharkhand government is functioning on direction of Delhi."
"People of Bihar are self-respecting who would never accept a government in the state to be run on directions from Delhi," he added.
"Jungle raj" is an euphemism used to describe 15-year rule of RJD in Bihar from 1990 to 2005 marked by poor law and order situation.
After JD(U) and RJD joined hands to take on surging BJP in the coming Bihar poll, the saffron party in particular has given the slogan of "jungle raj II" against it.
Mr Kumar referred to the kidnapping of a doctor couple in Gaya recently and how the government got the kidnapped couple released within three days and the culprits punished.
Many works have been done in Bihar by his government and many more remain, he said "If I am satisfied with my work then how can I perform in the future? ... It is the people who should be satisfied."