New Delhi:
Highlights
JNU students accused of sedition, including Umar Khalid, return to campus
The 5 of them, co-accused with Kanhaiya Kumar, may surrender to police
Tense night in JNU. Students hold vigil as police wait outside campus
JNU students accused of sedition and missing for days
surfaced on the campus last night
and have said they will not resist arrest. The police, however, have not been allowed to enter the campus and are trying to get the students to surrender at the gates.
"They should join the probe. If they are innocent, they should present evidence of their innocence," Delhi Police chief BS Bassi said.
On Sunday, the accused students were joined by scores of students and teachers in an all-night vigil at JNU or the Jawaharlal Nehru University while the police waited outside the gates. Policemen were not allowed through the gates and did not force their way in.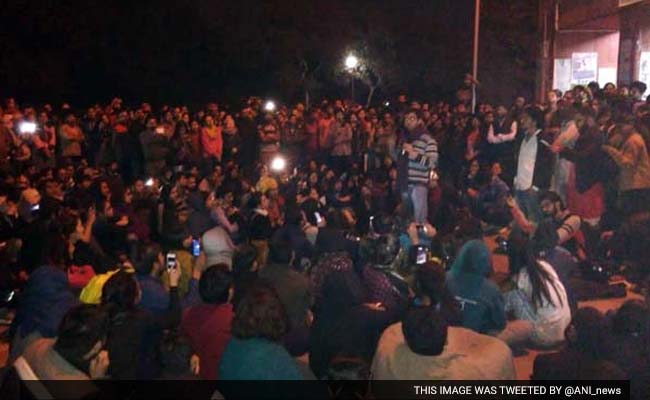 The accused students - Umar Khalid, Anirban, Ashutosh, Rama Naga and Ananth Prakash - say they did nothing wrong.
They are accused of organizing an event on February 9 to mark the anniversary of the execution of terrorist Afzal Guru, during which anti-India slogans were raised. Sixteen students were accused of sedition and one of them,
Kanhaiya Kumar, was arrested
and is in Tihar Jail.
"We went underground because we feared for our lives," one of the students told NDTV.
Umar Khalid
- described as the chief organiser of the Afzal Guru event - called the charges against him "ridiculous" and said he was worried about threats made to his family, especially sister.
"For the first time in seven years I felt like a Muslim and that too in the last 10 days. I was reduced to my identity and it is shameful... These people are telling us about patriotism... They may have majority but they are scared of us... they are scared of our struggle, they are afraid of us because we think... "Umar Khalid said to cheers from supporters.
The arrest of 28-year-old Kanhaiya Kumar and the
violence by a group of lawyers at two court hearings in Delhi last week
has ignited a nationwide debate. Protest marches have been held in the student's support as well as by those who allege "anti-national activities at JNU."
Get Breaking news, live coverage, and Latest News from India and around the world on NDTV.com. Catch all the Live TV action on NDTV 24x7 and NDTV India. Like us on Facebook or follow us on Twitter and Instagram for latest news and live news updates.