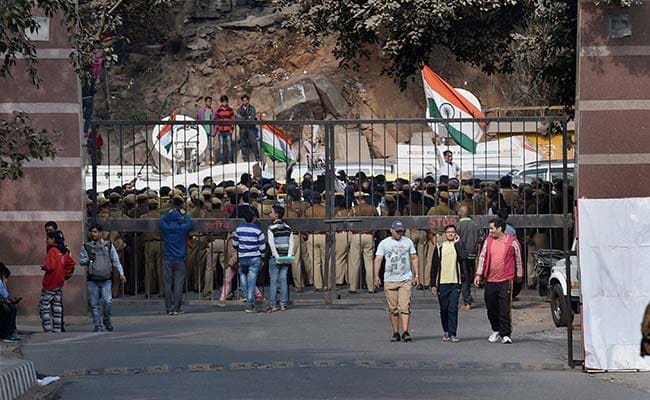 NEW DELHI:
A high-level committee of the Jawaharlal Nehru University, inquiring into the February 9 event, has said that the dean of students was "not vigilant enough" in preventing it and that varsity students Umar Khalid and Anirban Bhattacharya were among those who did not submit the booking form to the appropriate authorities.
The five-member committee, which submitted its report last week, has also found faults with the university security for not making efforts to stop "outsiders" from raising provocative slogans at the event.
Anti-India slogans were allegedly raised at the event and sedition case was subsequently filed against JNU Students Union president Kanhaiya Kumar, Khalid, Bhattacharya and three others. All three were arrested and while Kanhaiya Kumar was granted bail, the other two are still in custody.
"It is to be noted, given that the event had taken place in 2015 as well, DOS (dean of students) office was not vigilant enough to anticipate and prevent this event," the report said.
It also said security did not make any efforts to stop the outsiders from leaving the campus.
"... the security was not alert and vigilant to stop the posters for this event till after the chief security officer (CSO) met the authorities," it said.
The report also said that as the process of taking permission was not complete, there was confusion at the dean's office on whether the permission had been granted or not, and while the dean was not present on campus during the event, he was in touch over the phone with the CSO.
"The booking form was never submitted to the approving authorities by the students concerned (Khalid, Bhattacharya, Komal Mohite, Ashwati Nair). Since the process of seeking approval was never completed, the booking form did not reach the CSO. Therefore, the CSO did not know about the event," the report added.
The high-level inquiry committee included Professor Rakesh Bhatnagar, Professor HB Bohidar, Professor Suman K Dhar, Professor GJV Prasad, and Professor Ummu Salma Bava.
The report said that Mr Mohite "misrepresented" her hostel address in the undertaking form and the other students did not write their full names.
The report also mentions that the undertaking form attached to the booking form did not have the full names and stamps of the four signing authorities- "the faculty, the chairperson, the dean of the school and dean of students/additional dean of students (DOS/ADOS)."
Kanhaiya Kumar along with JNUSU general secretary Rama Naga and varsity students Anant Prakash Narayan, Bhattacharya, Ashutosh, Khalid, Ashwarya Adhikari and Shwetha Raj were suspended on February 12.
However, the administration last week revoked the suspension of all after the committee submitted its report.