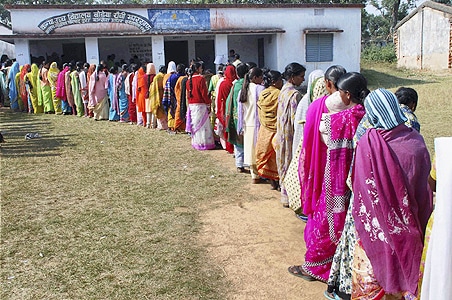 New Delhi:
The electoral fate of 239 candidates will be decided by 3,096,854 voters in the second phase of Jharkhand elections to be held on December 2. Among the candidates are six former ministers including ex-home minister and president of All Jharkhand Students Union (AJSU) Sudesh Mahto. Following is the list of heavyweights whose fate will be decided in the second phase.
Sudesh Mahto
: The All Jharkhand Student's Union president, Sudesh Mahto, has earned the distinction of entering the state assembly at the young age of 25. He was the Home Minister of the state in the second phase of Arjun Munda's ministry. In addition to the portfolio of Home, he was also looking after prisons, road construction, building construction, art and culture, youth affairs and sports. He attracted media's attention in June 2006 when he got constructed a 35 km road to his would be wife's home before his marriage. He is seeking re-election from Silli for the third time.
Gopal Krishna Patar
: Raja Peter alias Gopal Krishna Patar was in the news for defeating the then Jharkhand Chief Minister Shibu Soren in the by-election to Tamar assembly constituency early this year. It was Peter's victory which forced Guruji to resign from his post paving way for President's Rule in the state which lasted for nine months. Though Peter was elected from Tamar as an MLA, he failed to attend any assembly session as it was kept under suspended animation during President's Rule. Soren was defeated by Gopal Krishan Patar of the Jharkhand Party by over 9,000 votes. In the last 11 months the political scenario has changed. Raja Peter is now a JD-U nominee from this seat. Ramesh Singh Munda's son Vikas Munda is a nominee of the All Jharkhand Students Union (AJSU).
Masi Charan Munda
: Thirty-four-years old Munda is a jailed Maoist rebel facing 18 serious criminal cases including murder. Masi is a zonal commander of the People's Liberation Front of India (PLFI). He is contesting from Khuti assembly constituency of Jharkhand. The other key candidates in the fray are sitting Bharatiya Janata Party (BJP) legislator Neel Kanth Singh Munda and Rosan Surin of the Congress party. Rosan is son of late Sushila Kerketta who was Lok Sabha MP in 2004 and 2009. Rosan is the richest candidate of Jharkhand with assets worth Rs.24 crore.
Kundan Pahan
: He is the self-styled zonal commander of the CPM. It was Pahan's group that abducted Special Branch Inspector Francis Induwar from Khuti this October and beheaded him. The nation was shocked when Induwar's decapitated body was found near Raida Ghati on the Ranchi-Jamshedpur National Highway. It was also his group that killed senior Janata Dal-United (JD-U) leader and then legislator Ramesh Singh Munda in July 2008. It was this seat which necessitated the by-poll in which Soren was defeated.
State intelligence officials say that Pahan, just like Veerappan, the sandalwood smuggler and forest brigand who challenged three state governments for over two decades before being gunned down in 2004, is becoming notorious for his violent actions. Pahan has unleashed terror in Ranchi, Khuti and Jamshedpur districts, over a 50 sq km area of forests and hills where he rules the roost. More than 20 security personnel have been killed in the last 15 months in this area. This is the same area where Pahan's group hijacked an ICICI Bank delivery van in May last year and looted Rs.5 crore and two kg of gold. There are two other assembly constituencies where Pahan has a strong base -- Khuti and Silli.