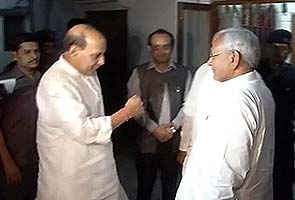 New Delhi:
Amid talk of a split, the Janata Dal (United) said today it has not set any deadline for ally BJP to declare the prime ministerial candidate for next year's general elections, but the party indicated again that Narendra Modi remains an unacceptable choice.
"The BJP is our friend. As friends, we don't bargain or put pressure. We will wait for the BJP to announce their candidate. Why comment in anticipation?" JD(U) spokesperson KC Tyagi said in Delhi, where the party is holding its national executive meeting. He called the Congress "enemy".
When Mr Modi's mention came, Mr Tyagi was unsparing in criticism of the Gujarat Chief Minister for the riots of 2002 in which 1200 people, mostly Muslims, were killed. "He (Mr Modi) was unable to deal with the aftermath of the riots as he should have," he said.
The JD(U) has been firm it cannot accept Mr Modi as the prime ministerial nominee for the National Democratic Alliance (NDA), which is fronted by the BJP.
Late in the evening, BJP chief Rajnath Singh and the party's Arun Jaitley met JD(U) powerhouse Nitish Kumar to see if their differences can be resolved.
While Mr Tyagi said Mr Kumar, the chief minister of Bihar, was not in the race to be a prime ministerial nominee, the venue of JD(U)'s national executive had massive posters of him and Sharad Yadav, taking on Sonia Gandhi and Manmohan Singh with the heading - "2nd Mahabarath War 2014." The posters had no BJP leader.
Since his third election win in Gujarat, many in the BJP feel Mr Modi is the party's best bet for the 2014 elections. But to Mr Kumar, who relies on the 15 per cent Muslim population in Bihar for electoral support, the Gujarat Chief Minister is unacceptable.
Before it wraps up its national executive meeting on Sunday, the JD(U) is expected to adopt a political resolution and make the demand for special status for Bihar. The BJP would be keenly watching.