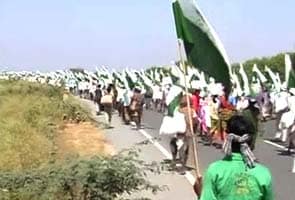 Delhi:
The
jan satyagraha
undertaken by over 30,000 landless people, who are marching from Gwalior to Delhi, has entered its third day. By undertaking this challenging journey, the protesters from 26 states hope to draw the Centre's attention to the plight of the landless poor. They hope to cover the distance of about 320 km by October 28.
The protesters, under the banner of NGO Ekta Parishad, are demanding a national land reform policy and plan to hand over a memorandum to the Centre to highlight their problems.
In Uttar Pradesh's Keshavpur village, 45-year-old Sharda Devi, whose house was allegedly set on fire last year, has joined the protest in the hope that she will get a piece of land to call her home.
"I told my children that even If I die protesting it does not matter you all work and earn for yourself I am going on this march to fight for our rights,' says Sharda Devi, who along with her husband works as a labourer
In a remote Patna district of Bihar, Badriram, a 50-year-old daily wager lives with his wife and 10 children in a 10 by 15 feet hut. Earning 2000 rupees a month, he has encroached on government land all his life and hopes that by joining the protest, he will one day have a piece of land to call home.
Benefits from the housing scheme Indira Aavas Yojna, the Centre's initiative to provide housing for the rural poor, have yet to reach people like Badriram. He says, "They (the Bihar government) say that till the time central government does not give an approval till then they cannot give us land."
"They are blaming each other and we have got nothing," he adds.
Thousands of people facing similar issues have joined the protesters on National Highway 3 in the hope that the central government will give them a piece of land for housing and farming. They walk during the day and sleep on the road during the night.
The office of Rural Development Minister Jairam Ramesh got in touch with Ekta Parishad's chairman PV Rajgopal. Mr Rajgopal is expected to speak with Mr Ramesh soon to reach a resolution and end the deadlock between the Centre and the
Satyagrahis
.
On Tuesday Mr Ramesh had met the protesters and gave them a written assurance that he will look into their demands. He also said that their demands are reasonable but the government would need at least six months to try and materialise it.
The protesters are hoping for a resolution before they reach Delhi. However, if talks fail, they will intensify their agitation.