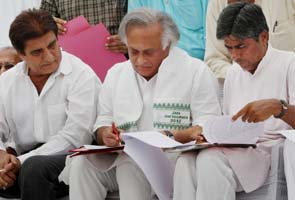 Agra:
A march by 50,000 landless people to Delhi from Gwalior - known as Jan Satyagraha (people's movement) - for framing a National Land Reforms Policy was halted at Agra today after an agreement was signed between the Central government and Ekta Parishad, the NGO behind the march.
Jairam Ramesh, Minister of Rural Development, drove to Agra today and met the Jan Satyagraha activists and agreed to work towards framing a draft Land Reform Policy in the next six months. He also agreed to set up a task force comprising officials from the Rural Development Ministry, state government and members of civil society organisations to ensure that the demands of the Jan Satyagrahis are implemented. The first meeting of the task force will be held on October 17.
Around 50,000 landless people from 26 states across the country including tribals and Dalits started their march from Gwalior on October 2. They were marching to Delhi to demand a right to a life of dignity and respect - a Right to Shelter.
The government, already under attack over various allegations of corruption, could not afford to face another crisis, had they continued their march to Delhi.
"If we are unable to present draft of the policy then Mr Rajagopal has every right to restart his agitation," Mr Ramesh said.
The mood was one of celebration in Agra. The farmers who had walked more than 100 kilometres in the last few days danced and sang songs.
But this is only one step in the movement, said P V Rajagopal, who has spearheaded the movement under the banner of Ekta Parishad. "If nothing happens in six months, we will assemble here in Agra and march to Delhi," Mr Rajagopal said.
The agreement says it will urge state governments to establish Fast Track tribunals to dispose off cases related to land disputes. It also talks of working with state governments to give statutory backing to providing agricultural land along with providing them land to build homes.
So far the agreement is silent on any time framework within which this will be done. In fact, Jairam Ramesh joked on stage "who knows where I'll be in six months. But the central government is committed to giving rights to the landless poor in the country."
Special trains had been arranged from Agra to take the Satyagrahis back to their homes tonight.
In 2007, the Janadesh, also led by Ekta Parishad, had seen 25,000 people gather at the Ramlila Maidan in Delhi with the same demands. At the time, Raghuvansh Prasad, the Rural Development Minister had assured the setting up of a National Reform Council headed by the PM and comprising of Chief Ministers of several states. They are yet to hold their first meeting.