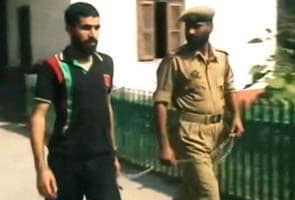 Jammu:
An encounter-specialist police officer from Jammu and Kashmir, who has reportedly killed 68 hardcore militants and received several prestigious awards including the President's medal for gallantry during his more than decade long career, was arrested last week along with his bodyguard for allegedly running a militant module.
Sub-inspector Shiv Kumar Sharma alias Sonu had allegedly plotted a grenade attack on the Thathri police station last month. Five men, who were arrested for the attack, claimed during interrogation that Mr Sharma had provided weapons and explosive materials to them in a bid to revive militancy.
"So far what we know is that he is involved in the grenade attack and supplied weapons to the five militants and asked them to get active in the area so that it once again appears that militancy is alive, he is not being trapped, we have done proper investigation and he is arrested on the basis of solid evidence," said Mohammad Arif Rishu, Superintendent of Police, Doda, said.
Mr Sharma had joined Jammu and Kashmir police as a Special Police Officer (SPO) and rapidly rose to the position of Sub-Inspector by securing several out-of-turn promotions, according to reports. Nick-named 'Robinhood', the cop was awarded with President's medal for gallantry. He was felicitated by the then-deputy-Prime-Minister LK Advani.
But sources say with militancy on the decline in the Doda-Kishtwar belt in the Valley, Mr Sharma became desperate, fearing that a drop in militancy would mean funds for carrying out operations would also dry up.
Mohammad Yakoob, the brother of one of the arrested militants, says, "Sonu had set up check-points to kill my brother. My brother got to know about it and he called up the SP, who sent a police vehicle and rescued my brother."
Meanwhile, the cop's arrest is snowballing into a major political controversy with the opposition BJP spearheading the campaign for his release.
"We are getting a sense that the local administration is conspiring against Sonu, the person who has won a gallantry award is now behind bars, we have met the IG police and the DC and asked for the release of Sonu," said the BJP's Bali Bhagat.