Guwahati:
The Tibetan spiritual leader-in-exile the 14th Dalai Lama- Nobel Laureate Tenzin Gyatso- reached Guwahati on Saturday to kick start his two week-long visit to Assam and Arunachal Pradesh amid strong objection by China and an appeal by banned group United Liberation Front of Assam or ULFA (I) to not say anything against China during his trip. On the very first day Dalai Lama brushed aside China's objections saying it's 'normal for them' to object, he has 'no problems and fears'.
The Buddhist monk also added that he is "the longest staying guest of India" but he turns into a child whenever he visits Northeast India.
Stressing upon two major issues - secularism and terrorism, the Dalai Lama said at a talk at the platinum jubilee celebration of The Assam Tribune: "In a democratic setup, people are supreme and awareness of rights is very important. I have been to over 200 countries but India is the only country which can make material development and also preserve compassion at same breadth. Without
karuna
,
ahimsa
is impossible?" Among the audience were Assam Governor Banwarilal Purohit and Assam Chief Minister Sarbananda Sonowal.
Speaking against the growing culture of linking acts of terrorism to religious beliefs, the Dalai Lama said: "The terms 'Muslim terrorist' or 'Buddhist terrorists' are wrong. No religion preaches terrorism," adding that the answer to growing hatred and intolerance lies in the secular structure of India as a democracy.
Today, the Dalai Lama released an Assamese version of his first autobiography- My Land and My People. He is also expected to take part in the Namami Brahmaputra programme in Guwahati later today.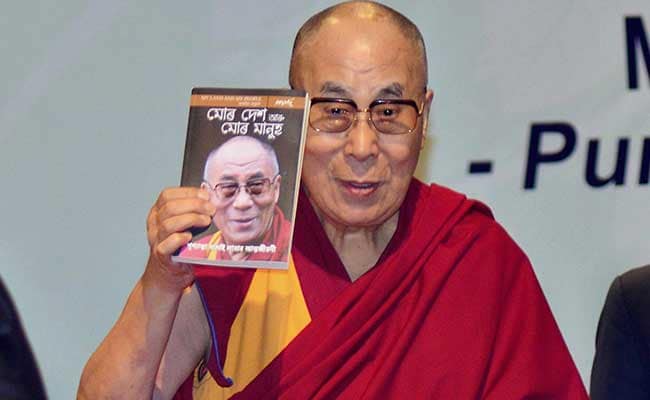 Tomorrow, the spiritual leader will address a gathering at Dibrugarh University.
The visit of the Dalai Lama in the north-eastern states will culminate with a teaching session in Arunachal Pradesh's capital Itanagar on April 12.
This visit comes in the wake of repeated statements by China of 'strong repercussions' of allowing Dalai Lama to travel to Arunachal Pradesh.
In Assam, the banned ULFA(I) faction led by Paresh Barua which is known to have close ties with Chinese intelligence , has 'appealed' to the spiritual leader not to say anything that would 'hurt the Chinese' while in Assam.