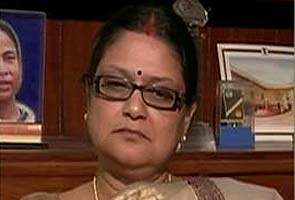 New Delhi:
Mamata Banerjee has apparently no plans to break up with the Congress. "It's a fight within a family," said her party's Kakoli Ghosh Dastidar, referring to the unprecedented tension between the two parties, caused by Ms Banerjee's request that her own party man, Dinesh Trivedi, be fired as Railways Minister.
Ms Banerjee is incensed by his announcement on Wednesday of an increase in passenger fares. Mr Trivedi presented his Railways Budget to Parliament on Wednesday. Within hours, Ms Banerjee wrote to the Prime Minister, stating that she would like Mr Trivedi to be replaced by another Trinamool leader, Mukul Roy. "If she did not want to stay with the government, she would not have nominated another person," said Ms Dastidar on NDTV's The Buck Stops Here. The Congress has told Ms Banerjee that Mr Trivedi cannot be removed before the end of the month - it does not want more controversy or tension till the union budget is presented and debated. However, speaking to NDTV, Saugato Roy of the Trinamool Congress said last night that the government has till the end of today to remove Trivedi.
Ms Banerjee described the new fares and the crisis over Mr Trivedi as a Congress conspiracy, a charge she made at a meeting of all her MLAs in Kolkata.
Mr Trivedi has said that so far, neither the Prime Minister nor Ms Banerjee has asked him to resign. In Parliament yesterday, the BJP's Sushma Swaraj asked, "Is Mr Trivedi still the Railways Minister or not?" Finance Minister Pranab Mukherjee said that the PM had received Ms Banerjee's request for a change, and would inform the House of his decision once it's made.
The Congress, however, is reportedly weighing whether to let Ms Banerjee exit the ruling coalition. In place of her 19 MPs, it is considering whether to partner with Mulayam Singh Yadav who has 22 Lok Sabha MPs.
Mr Yadav, sources say, could be offered a cabinet post. The senior-most leaders of the Congress - the party's core committee - will meet today to review the matter.