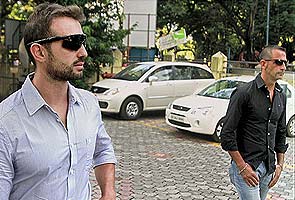 New Delhi:
The Italian envoy was summoned in Delhi on Tuesday evening by the government which is seething over Rome's refusal to send back two marines accused of shooting a pair of Indian fishermen off the Kochi coast.
"We said their message to us is not acceptable. ...Italy is obliged to ensure the marines return as per their assurance," Foreign Secretary Ranjan Mathai said. (
Read India's full statement on Italian Marines
)
The Prime Minister told parliamentarians from Kerala on Tuesday morning that Italy's action is "unacceptable;" curiously, he said he had learnt from the papers that Italian had informed India that it would not send back the marines who were permitted to travel home by the Supreme Court for four weeks till March 22. India says it will wait till that deadline expires to decide its course of action.
Massimiliano Latorre and Salvatore Girone, who were guarding an Italian oil tanker, say they shot the fishermen because they mistook them for pirates.
The Supreme Court had allowed them to spend Christmas in Italy, and the sailors returned on schedule. In February, the Supreme Court sanctioned another trip home so they could vote in the national election.
In a note on Monday night, the Italian government said that while Rome is open to international mediation, the marines will not return to Delhi for their trial.
Senior advocate Harish Salve, who is the lawyer for the marines, says Italy's position is unacceptable and he will dissociate from the case unless the marines return. "Italy is bound in law and good faith to respect the undertaking to Supreme Court," he told NDTV.
The government's options include expelling the Italian envoy in retaliation, since he had promised the Supreme Court that the marines would return to India. (
Read Italian ambassador's assurance given to Supreme Court
) But this would scale up the diplomatic crisis.
Approaching the International criminal Court is not suitable because India has been contesting Italy's assertion that the fishermen were shot in international waters and India has no jurisdiction over the case.
The Supreme Court transferred the case out of Kerala in January and the marines were moved to the Italian embassy in Delhi, and reported once a week to a local police station.