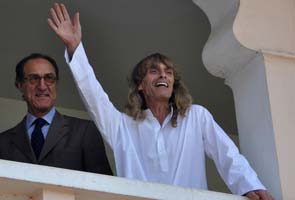 Bhubaneswar:
After being in captivity for nearly a month, Italian national Paolo Bosusco has been released by Maoists in Odisha today.
Mr Bosusco, 51, was handed over by the Maoists to their mediator Dandapani Mohanty and some journalists in the forest of tribal-dominated Kandhamal district. On his arrival in the state capital, the Italian national said, "I am happy being a free man now. I am tired and need some rest... I have a special love for Orissa that I will still keep, notwithstanding this hard period."
Mr Bosusco, a Puri-based Italian tour operator, had been abducted along with his 61-year-old compatriot Claudio Colangelo on March 14 while trekking in the forests of Daringbadi area in Kandhamal district. The latter was released to journalists by the Maoists eleven days later.
Earlier this morning, a source close to the Maoists claimed that the release of the Italian national was delayed because the Maoists were waiting to hear on the bail order of Arati Majhi, one of the prisoners who they want released. However, that information turned out to be false as the Maoists had released Paolo at 5 am in the morning.
Aarti Majhi's bail plea was later rejected on technical grounds.
In an audio message yesterday, Maoist leader Sabyasachi Panda had said that Mr Bosusco would be released after the state government responded to his demand for lifting the ban on three mass organisations. Mr Panda had also said that he had come to know the content of the joint statement signed by the Odisha government and the Maoist-appointed mediators, which was one of the preconditions for the release of the Italian national.
The Government of Odisha had on April 4 agreed to release 27 prisoners, eight of whom are Maoists for the release of the Mr Bosusco and Biju Janata Dal (BJD) MLA Jhina Hikaka. Mr Hikaka was abducted by Maoists in Koraput district of Odisha on March 24. He continues to remain in Maoist custody until their demand for release of 30 rebels, including one accused of killing 55 policemen, is met.