New Delhi:
Highlights
No update has been released by ISRO in last 48 hours: Sources
Sources in ISRO say the satellite has suffered a serious setback
GSAT 6 A is communications satellite largely used for defence purposes
More than 60 hours after its picture-perfect launch, the satellite GSAT-6A dropped off the radar of space agency ISRO, becoming, in effect, one of the blind objects hurtling through space. Contact with the Rs 270-crore satellite was lost before it could be put in the orbit, ISRO said this morning. While efforts are on to re-establish contact with it, an 11-member committee, headed by satellite expert PS Goel, has been formed to find out how things went wrong.

'There has been an unfortunate power system anomaly... the satellite should have gone into safe mode but that did not happen. All contact was lost," ISRO chief K Sivan told NDTV.

Scientists, however, made it clear that the future launches will happen on schedule despite the setback. One of these -- the Polar Satellite Launch Vehicle -- is tentatively slotted for April 12. The last time ISRO saw failure was on August 31 last year, when the PSLV failed to launch the IRNSS-1H satellite.

In a statement this morning, the space research organisation said "communication from the satellite was lost" as it was being prepped for the final push that will place it in orbit.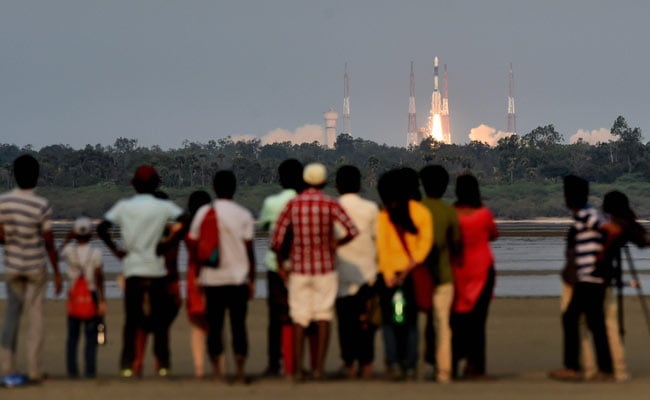 ISRO's GSAT-6A lifted off on the back of the heavyweight GSLV rocket from Sriharikota's Satish Dhawan Space Centre

After Thursday's launch, the satellite was meant to be placed in orbit in three phases.

When a satellite is launched, it is kept closer to the Earth before it is raised to its final orbit. Orbit-raising refers to the manoeuvres by which it is taken to its final orbit in stages. Each time, a series of thrusters - small engines that makes alterations in the flight path - is used.


ISRO posted an update at 9:22 am on Friday, when the first orbit-raising was carried out. People familiar with the matter said the second orbit-raising was also successful; the thrusters were fired for 53 minutes on Saturday morning.
This morning, in a statement, the space agency said: "After the successful long duration firings, when the satellite was on course to normal operating configuration for the third and the final firing, scheduled for April 1, 2018, communication from the satellite was lost".
The home-made 2066-ton satellite is
expected to send and receive signals
from hand-held devices. It
carries one of the largest antennas built by ISRO, its former chairman Kiran Kumar has said. The huge size of the antenna gives it more power, which ensures that a two-way exchange of data, voice or video, can be carried out through small hand-held devices from any corner of the country.
The hand-held devices are still being fine-tuned by the Defence Research and Development Organisation or DRDO, which is looking to make a number of such devices for security personnel deployed in remote areas.
The powerful, home-made communications satellite lifted off on the back of the heavyweight GSLV rocket from Sriharikota's Satish Dhawan Space Centre. The rocket also had a special feature -- a new engine that will also be crucial for India's second Moon mission.
Get Breaking news, live coverage, and Latest News from India and around the world on NDTV.com. Catch all the Live TV action on NDTV 24x7 and NDTV India. Like us on Facebook or follow us on Twitter and Instagram for latest news and live news updates.