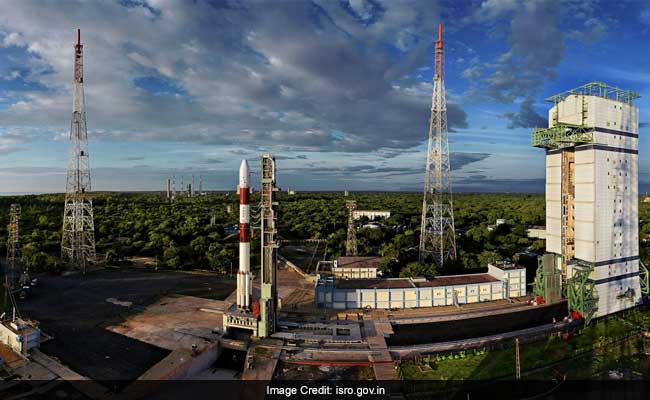 Tirupati:
India will launch a record 103 satellites in one go during the next mission of PSLV, space agency ISRO announced at the ongoing Indian Science Congress in Tirupati today. The launch, said the participating scientists of the organisation, will take place in the first week of February. The launch will be huge feat, as an attempt of this scale has never been made before. The previous world record is held by Russian rocket Dnepr, which launched 39 satellites at one go in June 2014.
Here is your 10-point cheat-sheet to this big science story:
The launch vehicle PSLV, (Polar Satellite Launch Vehicle) will lift off from Sriharikota with three big and another 100 small satellites.

Till last week, the plan was to launch 83 satellites. But the ISRO decided to up to 100 in a single mission following the addition of 20 more foreign satellites. It also delayed the launch by one week, said S Somnath, Director of the Liquid Propulsion Systems Centre of the ISRO.

The PSLV C 37 will carry one satellite of the Cartosat series and two small ISRO satellites. The rest - exactly a 100 -- are small commercial satellites.

Most of the smaller satellites are from the US and will be launched on a commercial basis. The rest belongs to other nations including France and Germany.

The 100 satellites are expected to weigh 500 to 600 kgs. The space agency will use the heaviest of its PSLV rockets to make this world record. The PSLV is a reliable work horse for space launches in India.

Last year, ISRO had launched 22 satellites at a go. This launch will have almost five times the number.

The South Asian satellite project -- a part of GSAT 9 project and hugely favoured by Prime Minister Narendra Modi -- will take off in March, said M Nageshwara Rao, the associate director of the agency.

The GSAT 9 is a geostationary communications satellite, which is expected to be launched this year. It will help south Asian nations during disaster and establish a hotline between these foreign ministries.

The communication satellite was to be launched in December 2016, but was slightly delayed due to the other satellite launches.

Besides India, the communication satellite will benefit Sri Lanka, Maldives, Bangladesh, Nepal and Bhutan.