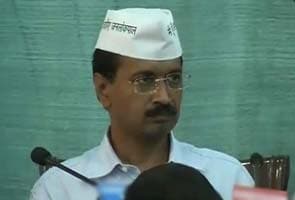 New Delhi:
Activist-politician Arvind Kejriwal, who had promised last month to "expose corrupt leaders", is holding a press conference at the Constitution Club in New Delhi today. Mr Kejriwal today targeted BJP President Nitin Gadkari for his role in the alleged irrigation scam in Maharashtra. Here are the highlights of what he said:
Nitin Gadkari has a huge business empire. We want to know if his interests as a businessman are clashing with that of the farmers.
Is at the cost of the farmers, who are committing suicide?
Anjali Damania knows no introduction. She is a doctor by profession. She was a housewife and came to know about irrigation scam. She joined Anna.
She filed an RTI. And got proof that 70 thousand crores have been spent but farmers are not getting any water. She filed appeal in the Bombay High Court.
On August 15, she met Nitin Gadkari, hoping that because BJP is in the opposition in Maharashtra, it will focus on this scam.
His answer shocked her. He said that 'Mr Pawar and I have a good relationship...they do work for us, we do work for them.'
Mr Gadkari later denied any relationship with Mr Pawar or with his party, the NCP.
Anjali kept digging for info with an activist named Preeti.
If in just one month, these two people could uncover this, what are our governments doing?

Come to story of Gajan Ghadge and others in the village of Khursapur. The land here was acquired. They were told it was for a dam for irrigation. Ghadge is a farmer who lost his land. They need 100 acres, but acquire 150 acres. They needed less but took more. The land was lying empty. In 1997, dam was complete. 100 acres land was lying empty, unused.
When the Farmers wrote in 2000, it took two years for a response and that too in the negative.
But when Nitin Gadkari wrote, it took Ajit Pawar four days to respond. The issue was taken up at a meeting of the VIDC and farmland was given to Gadkari.
Land cannot be given like this to private parties.
What is Gadkari doing with the land? Farming... so why wasn't the land given the farmers?
All the waste from Gadkari's company was going into the river. It wasn't even suitable for animals to drink. They were asked to stop this. It is difficult for people to live there. Fishermens' association says that the whole lake is polluted now.
All over Maharashtra this story is repeated. In the name of farmers suicides, huge grants have been given by the Centre and the state. They say they will build dams... in most places the work isn't done... and where the dams have been built, canals to distribute water is not there. All the water is diverted to the sugar industry and power plants.
Almost all the water has been diverted to power and sugar companies by Ajit Pawar.
There cannot be a worse injustice. You took their land and now you are taking their water too.
Thousands of crores have been apparently spent for irrigation but no irrigation has been done.
Mr Gadkari wrote to Mr Pawan Bansal so that money for the contractors be released.
He has raised questions in Maharashtra Assembly.
But not one question raised about why the farmers are not getting water, all of it is being diverted to industry.
Why? Because he (Gadkari) has 5 power companies, 3 sugar companies, other ancillary businesses like construction.
The opposition is supposed to raise issues against the ruling party. But they all have settings between themselves - you do these things for me, and I will do these things for you.
Is Mr Gadkari a politician or a businessman?
Mr Gadkari is not a politician. He cannot work for the benefit of the people. He is a businessman who uses the people, and the party for his own profit.
He is using the BJP for his own interests and the BJP has now made him the president for the next three years.




Anjali Damania:


If all these 71 power plants are built, I do not think the farmers will get any water.
See this letter where Nitin Gadkari has written to get the land, and this has Ajit Pawar's signature. So why should Mr Gadkari raise his voice against the irrigation scam?




Prashant Bhushan:


The modus operandi of the scam was that contractors were given contracts for Rs 200 to 500 crore and within a month, the cost was increased by upto 10 times.
Another aspect of the scam is that dams were built not where it was needed, not near where farmers were committing suicide in Vidarbha. They were built near sugar and power companies.
A lot of land was acquired, and surplus land not required for the dams was given away to politicians like Mr Gadkari.

What kind of politicians does this country have? They are people who own liquor businesses.
These politicians will not let the Jan Lokpal Bill come in; even if 95 per cent of the country's people want it.
We have politicians like Salman Khurshid who are openly threatening Arvind Kejriwal. Salman Khurshid has threatened he will replace ink with blood .... He says Kejriwal can come to Farrukhabad but how will he go back? Is this man our law minister?

When we exposed Robert Vadra earlier, everybody jumped to his defence, all parties.
I thought he was the son-in-law of the Gandhi family...did not know he was the son-in law of all politicians.

They all are together - Salman Khurshid, Nitin Gadkari, Sharad Yadav, Sushma Swaraj, Mayawati, Akhilesh Yadav - they all are working together.
They are just fooling us.
We are exposing what the government has done for Mr Gadkari.
The law says when you have excess land, you should return the land to the farmers. But the land was given to Mr Gadkari.
The BJP will hold a press conference in a while. They will say the allegations are baseless. The Congress will say Mr Gadkari is guilty. There will be some mud slinging but nothing will happen eventually. They are all together.
We have no demands from the government. Our demands are to the people of the country - Please rise, this is the time. This time will not come again.
The words of Salman Khurshid are unbecoming of a minister. And my life is not in the hands of Mr Khurshid, it is in the hands of God. I am here for a mission and will complete it.

The Congress should concentrate on taking concrete steps to curb corruption. Rather than issuing threats.
We are not moving the court. We raised our voice against Robert Vadra. You (the media) took it forward. Now, it's upto the people. We cannot do everything.

Get Breaking news, live coverage, and Latest News from India and around the world on NDTV.com. Catch all the Live TV action on NDTV 24x7 and NDTV India. Like us on Facebook or follow us on Twitter and Instagram for latest news and live news updates.