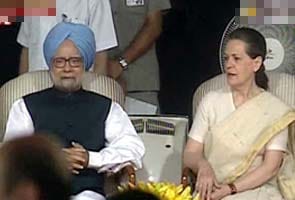 New Delhi:
With intense speculation about a deep rift between Prime Minister Manmohan Singh and Congress President Sonia Gandhi over the two union ministers forced to resign last week, the Congress today issued a statement dismissing the talk as rumour and disinformation. The party also said that Dr Singh will remain PM till the next general elections.
"The correct position is that it was the joint decision of the Congress President and Prime Minister... Manmohan Singh will stay Prime Minister till 2014," party General Secretary Janardan Dwivedi said on Monday.
Despite that statement, the national capital has been abuzz with reports of a divide, with Congress leaders themselves leaking stories about how Mrs Gandhi was the one who literally arm-twisted the PM into letting go of Ashwani Kumar and Pawan Kumar Bansal as Law and Railways ministers respectively.
The bribery case in Railways, in which Mr Bansal's nephew was arrested, came to the fore on May 3 but a decision on Mr Bansal's ouster was taken only seven days later. Meanwhile, Parliament remained paralysed for weeks after it emerged that the Law Minister had made changes to the CBI's probe report on the coal scam.
The two ministers, both known to be close to Dr Singh, had managed to hold on to their ministries due to latter's backing but finally had to resign on Mrs Gandhi's behest.
Almost on cue, the BJP trained their guns on the PM, holding protests outside his 7 Race Course Road residence.
Others asked the PM to come clean. "Questions have arisen on the PM's role. PM must come clean," said CPM's Prakash Karat.
An aggressive Opposition targeting the PM eventually forced the Congress to issue a clarification saying the decision to drop the ministers was a joint one between the PM and Mrs Gandhi.
But many are already wondering if the party-government divide is an attempt by a section of the Congress for a change in leadership.
On Wednesday, Dr Singh will fly to Assam to file his nomination papers as a Rajya Sabha candidate. Once elected, he will have a term until 2019 - the same term the next elected government will get. If Lok Sabha polls take place as scheduled, clearly Dr Singh is eligible for a third term as PM, but will his party be ready for such a move?