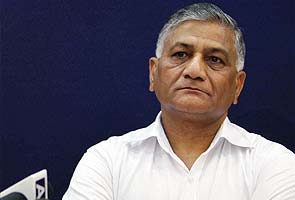 New Delhi:
Is the former Chief of Army Staff General V K Singh making his first forays into politics? Addressing a press conference in the Capital, the former Chief of the Army Staff endorsed the move of Bhartiya Kisan Mazdoor Sangh to "gherao" or surround the Parliament of India on December 4 over the pricing of sugar cane.
The Bhartiya Kisan Mazdoor Sangh is a breakaway faction of the RSS-backed Bhartita Kisan Sangh. Sharing the dias with General Singh was former journalist and RSS activist Ved Pratap Vaidik.
The General, however, refused to directly answer whether he was preparing the ground to join politics. "I support all those who fight corruption," he told reporters at the press conference and added that he hasn't yet decided whether he should join politics at all.
The former chief however said that those who wanted to serve the nation must make an effort to be in Parliament. Interestingly, General Singh who till a few months ago was dealing with a hostile Pakistan and an ambivalent China, is now focusing on the complaints of sugar cane farmers, who say that the revenue sharing formula suggested by the Rangarajan Committee report on freeing the sugar sector is not fair and does not provide a level-playing field to northern states, where sugar recovery is below nine per cent. The panel suggests 70 per cent revenue be paid based on an average 10.31 per cent recovery of sugar.
A few days ago, sharing the platform with veteran anti-corruption activist Anna Hazare, General Singh had demanded that the Government dissolve the current Parliament on the grounds that the government has abdicated its responsibility.
Days later, he was in Haryana sharing the dias with India National Lok Dal (INLD) leader and tainted former Haryana Chief Minister Om Prakash Chautala, urging voters to "support pro-farmer" parties.
Several former soldiers have taken up politics after retiring. But no chief of any of the three services has done so.
General Singh is the first chief to take on the government on social and political issues soon after retiring.
The fact that General Singh had a bitter fight with the government over his date of birth, which impacted when he retired, is being linked to his targeting the Congress over corruption and other issues.