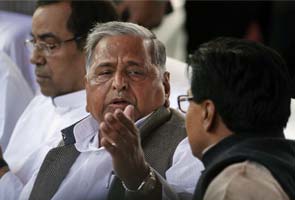 New Delhi:
Mulayam Singh Yadav's party has not accepted an apology from Union minister Beni Prasad Verma who had over the weekend accused Mr Yadav of "links with terrorists."
Mr Verma today expressed his remorse after a meeting with the Prime Minister. "I am sorry if my remarks have hurt anybody's sentiments," he said.
(Watch)
Mr Yadav's Samajwadi Party (SP) has made its fury clear by disrupting Parliament repeatedly demanding an apology from the minister and his removal from the cabinet.
The SP says its senior leaders will meet on Thursday morning to decide if the controversy can be considered a closed chapter.
The party has 22 Lok Sabha MPs, and props up the government which is in a minority. With the DMK exiting the Prime Minister's fragile coalition yesterday, Mr Yadav is now indispensable for the Congress-led UPA.
Sources say that the Congress has factored in the possibility of Mr Yadav ending his relationship with the government over the next few months. He has recently urged his party to be ready for early elections.
At a meeting with MPs from Uttar Pradesh on Wednesday, Congress vice president Rahul Gandhi allegedly issued the same alert.
But Foreign Minister Salman Khurshid said that Mr Gandhi was not suggesting that the government will not complete its term. He said Mr Gandhi was emphasising that there are just months to go for the general elections, scheduled for next year.