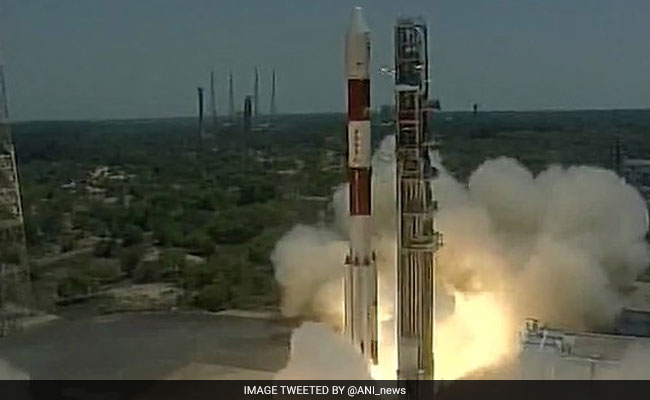 New Delhi:
Hailing the successful launch of navigation satellite IRNSS-1G, Prime Minister Narendra Modi on Thursday named the new system as 'NAVIC' (boatman) as he dedicated it to the people of the country and said SAARC countries can also take advantage of its services.
PM Modi gave the expanded form of 'NAVIC' as 'Navigation with Indian Constellation'.
He showered praise on ISRO scientists for giving the "priceless gift" to countrymen, saying they have realised the dream of 'Make-in-India', 'Made-in-India' and 'Made-for- Indians' to fulfill the needs of common people.
After the launch, India has attained the pride position to be among the world's five countries which have their own GPS system and navigation system, Modi said in a televised address.
"Today, India launched its 7th satellite in the field of navigation. All seven satellites were launched successfully one by one... The Indian scientists have given a priceless gift to the country's 125 crore people," he said while thanking the entire team of ISRO scientists.
"In space science, Indian scientists have, through sustained efforts, made so many achievements and the country is experiencing this today," he said.
The Prime Minister said the new service will be known as "NAVIC" as a mark of tribute to courageous Indian boatmen who, ages ago, would reach their unknown destinations using the navigation of stars and the speed of moon and sun.
"Now we are going to do this with the help of science and technology," he said.
"The world will know this as "NAVIC" as a mark of tribute to the poor fishermen of the country who have set an age-old tradition of courage. This will be our own "NAVIC", which will be in our mobile phones and give us our location and show us the way and the destination," he said.
"I dedicate it to you in this form. The 125 crore people of the country have got a new NAVIC," he said in the address.
PM Modi said its services will be available in additional 1500 sq kms and if anybody wants, it can be provided.
"I mean if the neighbouring countries of SAARC want to utilise India's services in this regard, we can provide them this. They are any way dependent on services of some other countries," he said.
So far, India was dependent on other countries for GPS system "but now we are independent" and "we will decide our course, how to go and how to reach there. This will be done through our own technology," PM Modi said.
Noting the importance of GPS system in the present world, the Prime Minister said this new navigational means will be useful in aerial systems, surface systems and maritime systems.
"Now even fisherman can check out where to find the maximum number of fish and how to go there by the shortest route. The path will be shown from the skies," he said.
He said now planes can also make easier landings in India with full accuracy using the Indian system of navigation.
"If any disaster strikes anywhere or any natural calamity happens, how to reach there, where to reach, the specific location, all these can benefit by this system," PM Modi said.
"Such are their capabilities that from Kashmir to Kanyakumari, from Kutch to Kamrup, these satellites will provide service to all corners of India," he added.
NAVIC can also be used to give information about movement of trains, including how many signals a train is away.
"If we are going by car or scooters, we can determine using NAVIC where we are, where we have to go and how far we have to go," the Prime Minister said.
He expressed confidence that Indian space scientists will have more achievements and come up with new innovations and India's name will reach the top of the world.