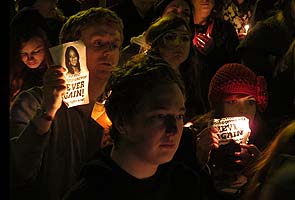 Dublin:
Ireland will publish a long-awaited report into why a miscarrying woman died in an Irish hospital after being refused an abortion, authorities said on Thursday as an opinion poll suggested strong public support for extending abortion rights.
The 108-page report from an expert panel is expected to detail many failures in the medical care given Savita Halappanavar, a 31-year-old Indian dentist living in the western city of Galway. She died from blood poisoning in October one week after being hospitalized while suffering a miscarriage.
Doctors refused to abort her fetus until its heart beat stopped. During those days of delay, a coroner's inquest has already determined that Halappanavar developed lethal blood poisoning.
The expert report, led by London obstetrics professor Sabaratnam Arulkumaran, is expected to detail several points when Galway doctors and nurses should have detected the rising septicemia in her blood.
Halappanavar's death reignited demands for Ireland to draft a law spelling out when abortions can be performed to save the life of the woman, an issue that six governments had left in legal limbo stretching back to a 1992 Supreme Court judgment. That judgment said abortion should be legal in Ireland when doctors deem one necessary to save the life of a woman, including from her own threats to kill herself.
Prime Minister Enda Kenny published a bill Wednesday that would finally transform the 1992 judgment into legislation hours after declaring in parliament that he "happens to be a Catholic" but could not govern as a Catholic prime minister.
Kenny's statement, during which he detailed receiving a barrage of threats and letters written in blood from anti-abortion activists, is being seen as a watershed moment in church-state relations in predominantly Catholic Ireland. Analysts noted how all previous Irish premiers have avoided conflict with church leaders and emphasized their own Catholic devotion.
The Protection of Life During Pregnancy Bill would permit abortions for women threatening suicide only if three doctors, including two psychiatrists, ruled that the woman's threat was severe. Abortions for non-emergency cases involving a threat to life would require support from two doctors.
Many lawmakers and doctors say this provision means Irish women will still sidestep the Irish hurdles and keep traveling to neighboring England for abortions, where the practice was legalized in 1967. More than 4,000 Irish women receive abortions there annually.
"Unfortunately I don't think the provisions on suicide will encourage any woman to go through that system in Ireland," said lawmaker Thomas Pringle.
A poll published Thursday in The Irish Times indicated overwhelming public support, with strong majorities wishing the bill extended abortion rights further.
The Irish Times opinion poll found that 89 percent want abortions to be granted in cases where a woman's life is endangered from medical complications caused by pregnancy.
Some 83 percent also wanted abortion legalized in cases where the fetus could not survive at birth, 81 percent for cases of pregnancy caused by rape or incest, and 78 percent where a woman's health - not simply her life - was undermined by pregnancy. The government bill excludes those three scenarios.
The poll of 1,000 people earlier this week across this country of 4.6 million had an error margin of 3 percentage points.