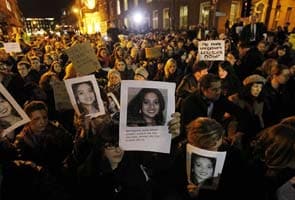 London:
A friend of Indian dentist Savita Halappanavar, who died after being denied an abortion in Ireland, testified during an inquest on Tuesday that medical staff at Galway University Hospital refused to carry out the termination of her pregnancy.
During the second day of hearings at the Galway Courthouse in Ireland, Mrudula Vasepalli, told the inquest that when a request for a termination of pregnancy was made, a midwife said, "We don't do that here dear, it's a Catholic thing".
She had visited Savita at the University College Hospital on October 23, five days before her 17-week pregnant friend died from blood poisoning as a result of a miscarriage.
During lengthy cross examination by Declan Buckley, acting on behalf of the hospital and its staff, Vasepalli was adamant that was what she had heard.
Buckley said there was no record of such a conversation in any medical notes.
The friend's account matches husband Praveen Halappanavar's statement on Monday that his wife's two requests for a termination were denied by the doctor who said that Ireland "is a Catholic country".
"The nurses were lovely. They took care of her. It's the system that is wrong," Vasealli told the inquest this morning.
Coroner Dr Ciaran McLoughlin had asked legal representatives for the hospital if the midwife could be identified and was told it was difficult to be certain who the woman in question was as there were several midwives on duty at the time.
Buckley said the "best guess" the hospital could make was that the clinical midwife manager in question was Ann Maria Burke and that she had been accompanied by a student midwife.
Both nurses have made statements but were not listed as witnesses.
The coroner has now requested that they give evidence for the sake of completeness.
According to a report in the 'Irish Times', the senior doctor who treated the 31-year-old young dentist, originally from Karnataka, contradicted parts of the evidence given by her husband.
Dr Andrew Gaolebale, a specialist registrar in obstetrics, was the one who informed Savita that her pregnancy was no longer viable when he saw her on October 21, 2012.
Her husband had said that Dr Gaolebale told him his wife's miscarriage would all be over in "a few hours" or in "four to five hours".
However, Dr Gaolebale said he would never say that as it was not possible to predict how long it would take a patient with her symptoms to deliver the foetus.
Asked if he had told the patient there was "no going back" in relation to her pregnancy, as alleged by her husband, he replied: "That was not my phrase".
On day one of the hearing on Monday, Savita's husband broke down as he read out a 90-minute statement recounting the events leading up to his wife's death.
"She basically said she can't take it," he said in reference to her two requests for a termination.
The inquest also heard how at one point Savita pleaded, "How can a mother wait for her baby to die?"
The ongoing inquest will continue to hear evidence from witnesses over the course of the week, and possibly a few days next week, to record a cause of death.
The final draft of an unpublished Health Service Executive (HSE) report into Savita's death had found there was an "overemphasis" on the foetus and an "underemphasis" on Savita's deteriorating health.
The case had re-ignited calls to re-define Ireland's confusing anti-abortion laws and the Irish government has committed to legislate to allow abortion if there is a real and substantial risk to a woman's life by July this year.