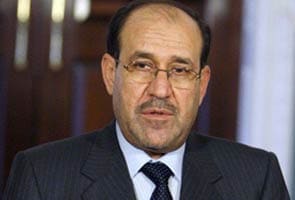 New Delhi:
Iraqi Prime Minister Nouri al-Maliki will arrive in India today on a four-day visit, the first high-level bilateral visit between the two countries in 38 years.
The visit, on the invitation of Prime Minister Manmohan Singh, may see the two countries ink an agreement on energy cooperation, officials said on Wednesday.
The visit by Iraq's Shiite PM comes as India's oil imports from Baghdad have increased substantially. At $20 billion, Iraq is the second largest crude supplier to India. In comparison, India's oil imports from sanction-hit Iran have dipped to eighth position.
In 2006, the UN Security Council imposed sanctions after Iran refused to suspend its enrichment program. US sanctions targeted investments in oil, gas and petrochemicals, exports of refined petroleum products among others.
The last high level bilateral visit was by former Prime Minister Indira Gandhi to Baghdad in 1975.
Mr Maliki will meet Dr Singh, call on President Pranab Mukherjee and meet Vice President Hamid Ansari and External Affairs Minister Salman Khurshid. Leader of the Opposition in the Lok Sabha Sushma Swaraj will also call on him, said external affairs ministry spokesperson Syed Akbaruddin.
India-Iraq bilateral trade stands at $21 billion, a quantum jump from $5 billion in 2006-07. The visit is important as both countries are looking to take their relationship "beyond the buyer-seller relationship", said Akbaruddin.
Mr Maliki's visit comes a few days after Iraqi Deputy Prime Minister and Minister for Oil Hussain Ibrahim Saleh al-Shahristani's trip to Mumbai.
According to Mridul Kumar, Joint Secretary Gulf Division in the ministry, Shahristani had defined the scope of their bilateral ties when he said that "Iraq wants to be a reliable partner for India in the energy sector".
India has also offered to help in reconstruction of Iraq - focusing on destroyed infrastructure like airports, highways, ports, said the official.
Both countries are expected to ink an agreement on water resources management.
Mr Maliki will also address a business lunch with ASSOCHAM, CII and FICCI on Friday to seek Indian investment in his country.