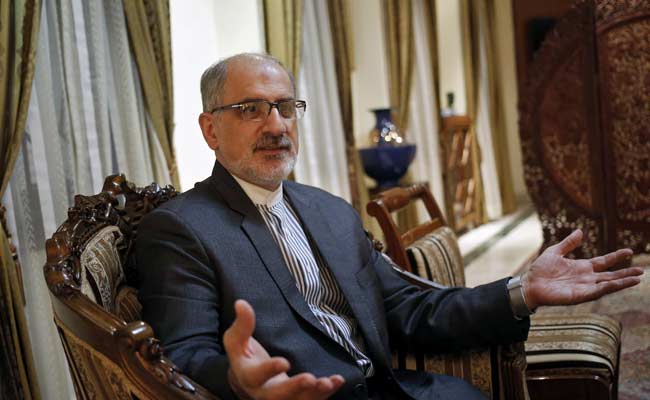 New Delhi:
Asking India to take advantage of the period ahead of lifting of sanctions against it, Iran has invited Indian investments of about $8 billion in infrastructure projects there without wasting time in "cheap negotiations".
Asserting that Iran has been a "reliable partner", Iranian Ambassador in New Delhi Gholamreza Ansari said India should take advantage of the time before the western countries start making their investments after lifting of sanctions in the next 3-5 months.
"India has always been there even during the difficult time of sanctions. They should take advantage of their presence on the ground. Otherwise it will be a lost opportunity," Mr Ansari told PTI in an interview.
During his meeting with Prime Minister Narendra Modi in Ufa, Russia, earlier this month on the sidelines of the SCO (Shanghai Cooperation Organisation) Summit, Iranian President Hassan Rouhani had offered India a bigger role in its strategic infrastructure projects including ports, railroads and highways and sought investments to the tune of USD eight billion, Mr Ansari said.
"Prime Minister Modi was very positive. People here are very positive. But what I am trying to convey is that it should translate into action and we should not waste our time in cheap negotiations. We need to move forward."
"Iran is a reliable partner for the business. It used to be so for a long time (before sanctions) and the sentiments and attitude especially towards India is positive... India investing in Iran is obvious fruitful business for Indians," the envoy said.
He also said PM Modi government's focus is on connectivity which coincides with Iran's government policy and therefore Iran has asked India to get into major projects like building strategic ports like Chabahar, constructing big highways and railroads.
The two countries reached an agreement in May this year to develop the Chabahar port in Southeast Iran. India's Shipping Minister Nitin Gadkari and his Iranian counterpart Abbas Ahmad Akhoundi signed a $85 million deal for India to lease two existing berths at the port and use them as multi-purpose cargo terminals.
Under the new proposal, India can help build second and third terminals at the port as well as railway connections into the rest of Iran.
The project is expected to increase trade and economic engagement between the two countries. Although India and Iran originally agreed to develop the project in 2003, both nations failed to make much progress on this front due to Western sanctions on Iran linked to its controversial nuclear programme.
Chabahar port will allow India easier access not only to Afghanistan but also to Central Asia -- an energy-rich region that is very appealing to energy-starved India -- by bypassing Pakistan.
Indicating that the West-imposed sanctions will be lifted in next 3-5 months, pursuant to a nuclear deal between Iran and Western countries reached earlier this month, Mr Ansari said all big European countries like Germany, France and others would seize on the opportunity to invest in Iran and asked India to take advantage of the "right time" now.
The envoy also said that many Indian companies have expressed business interest in various fields and negotiations going on in different fields.
India has maintained a trade relation with Iran despite the sanctions, especially in terms of crude oil imports.
As per the industry estimates, India has been Iran's second biggest oil customer after China. Iranian oil has been imported by private as well as public sector refiners in India.