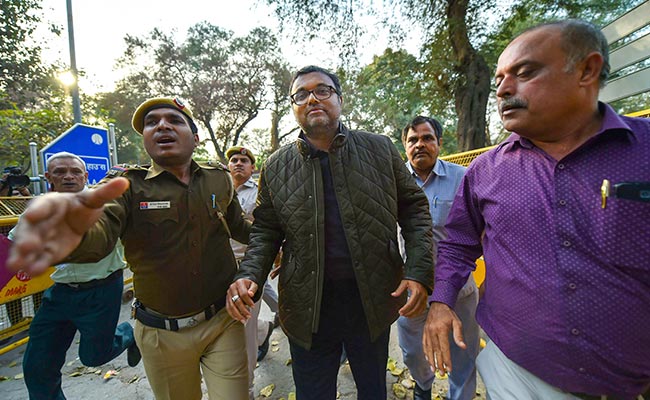 New Delhi:
The
arrest of Karti Chidambaram
in the INX media case by CBI on Wednesday came after nine months of lodging of an FIR and bitter legal battle which the investigating agency fought from the Madras High Court to the Supreme Court.
The case allegedly involving Karti Chidambaram, son of former union minister P Chidambaram, had first reached the Supreme Court after the CBI had challenged the stay granted by Madras High Court on two look out circulars (LOCs) issued against the accused.
CBI had contended that there were "good, cogent" reasons for issuing of LOCs dated June 16, 2017 and July 28, 2017 and had submitted some documents in sealed cover saying Karti's case was not simple as it involves jugglery of accounts and property abroad.
Since the lodging of the FIR to his arrest yesterday, Karti had sought permission several times to travel abroad from the Supreme Court and the Madras High Court for reasons including business interests in United Kingdom and France and daughter's admission at Selwyn College, Cambridge, United Kingdom.
He was allowed to travel abroad on November 20, 2017, by the apex court for his daughter's admission and on February 16 to February 28, for business engagements by the Madras High Court.
The FIR, lodged by the CBI on May 15, 2017, had alleged irregularities in Foreign Investment Promotion Board (FIPB) clearance to INX Media for receiving overseas funds to the tune of Rs 305 crore in 2007 when Karti's father was the Finance Minister.
Karti and his father had denied the allegations, saying there was no wrong-doing in the grant of FIPB approval to INX media.
After the CBI challenged the interim stay on LOCs granted by Madras High Court on August 10, 2017, the top court had stayed the order of the high court on August 14, 2017, and asked Karti to join the investigation.
The top court on January 31 this year had remanded back to the High Court, the pleas relating to the issuance of the LOCs against Karti and others in a corruption case while making it clear that its interim order "shall continue till the matter is finally disposed of".
It had directed the division bench presided over by Chief Justice of the high court to decide the challenge to the LOCs within two months.
One of the issues pending with the apex court so far is the CBI's and Karti's challenge to order of Madras High Court dated August 22, 2017, by which it had refrained itself from going into the merit of issue of quashing of FIR lodged in the INX Media case and rejection of the investigating agency's ground of maintainability due to lack of territorial jurisdiction.
On February 23, Karti had also challenged the summons issued by Enforcement Directorate against him seeking his appearance on March 1, in connection with INX media case.