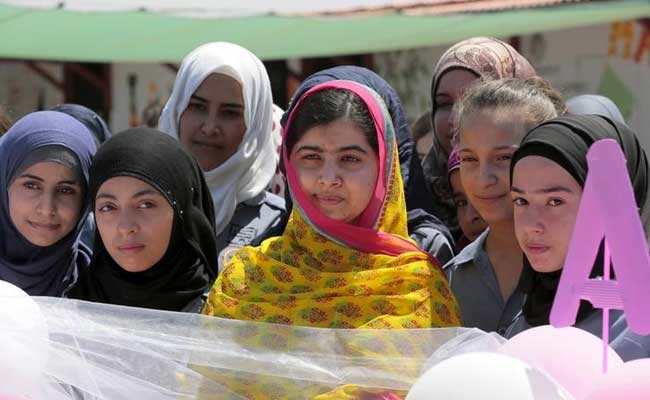 Mumbai:
Despite its avowed opposition to Pakistani personalities, Shiv Sena wants Nobel Laureate and child education activist, Malala Yousafzai to become a peace ambassador between the two countries, hailing her fight against terrorism.
The saffron outfit, which in the past few weeks has carried out anti-Pakistan protests, today said India should invite Malala to become a peace envoy between New Delhi and Islamabad.
"The Shiv Sena would like the Centre to invite Malala Yousafzai to come to India and become a peace ambassador between India and Pakistan... She is a true messenger of peace because she has shed her blood for promoting peace. Drama of other politicians will continue but if there are only a hundred Malalas in Pakistan, terrorism will forever be eliminated from her country," said senior Sena leader Sanjay Raut.
The 18-year-old Pakistani activist, who survived an assassination attempt by Taliban gunmen in 2012, had dared to fight against terrorism in her own country.
"We will whole-heartedly support an invitation to Malala. There is a big difference between Malala and politicians like Khurshid Kasuri. Kasuri has always supported terrorism... But Malala is someone who fought terrorism from Pakistan's soil. She has even taken bullets while fighting for her cause and almost lost her life in the process. The whole world needs to take lessons from her," Mr Raut said.
The Sena leader said if Malala comes to India, Muslims who "discreetly" support Pakistan's terrorist activities will learn a lesson or two from her.
The Uddhav Thackeray-led party has escalated its protests against Pakistan over the issue of sponsoring terrorism in India.
Early this month, the Sena forced the cancellation of Pakistani ghazal singer Ghulam Ali's concerts in the state. It also staged protest against former Pakistan Foreign Minister, Khurshid Kasuri's book launch in Mumbai, where its workers smeared oil paint on the face of Sudheendra Kulkarni who hosted him.
Mr Kulkarni is a former aide of BJP veteran LK Advani.
On Sunday, Sena activists stormed the Cricket Board headquarters here and forced the cancellation of talks between BCCI President, Shashank Manohar and his Pakistan counterpart, Shahryar Khan on resumption of cricket ties.