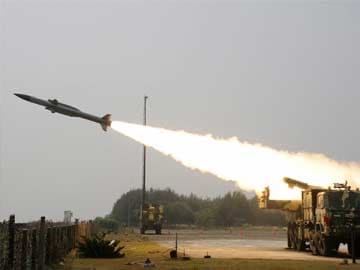 Bhubaneswar:
India's supersonic, medium-range surface-to-air Akash missiles on Wednesday successfully intercepted fast moving targets in ripple mode in a test carried out from a defence base in Odisha, an official said.
The missiles were launched from the Integrated Test Range (ITR) of Chandipur in the coastal Balasore district of Odisha, about 230 kms from Bhubaneswar, on towed body targets of Lakshya (pilot-less target aircraft) moving at "low altitude far boundary" and ripple mode missions.
"The missiles intercepted the fast-moving and manoeuvring small radar cross-section (RCS) targets within small interval of five seconds in ripple mode," Defence Research and Development Organisation (DRDO) spokesman Ravi Kumar Gupta told IANS.
Indian Air Force teams operated the deliverable Akash missile system including targets, he said.
The missiles were successfully guided by multifunction phased array radar developed by Electronics and Radar Development Establishment (LRDE) of the DRDO and produced by Bharat Electronics Limited (BEL).
The missiles, developed by Defence Research and Development Laboratory (DRDL) along with 13 other DRDO laboratories, were produced by Bharat Dynamics Limited.
The launchers were developed by R&DE (Engrs), a DRDO lab and produced by Tata Power and L&T, he added.
Avinash Chander, scientific advisor to the defence minister, congratulated all the teams from DRDO, production agencies and Indian Air Force for successfully organizing the event and fulfilling the mission objectives of the evaluation tests on deliverable equipment, said Gupta.
Various industries across the country are engaged in production of Akash subsystems of military grade or aerospace quality systems and have emerged successfully in meeting the stringent requirements, he added.
The 700-kg all-weather missile Akash can carry a 60-kg warhead at speeds of up to Mach 2.5. It can operate autonomously and simultaneously engage and neutralise different aerial targets.
It can be launched from static or mobile platforms, enabling flexible deployment by the armed forces.