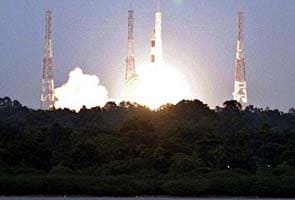 New Delhi:
After a successful moon mission, the Union Cabinet gave the go-ahead to India's first mission to Mars. The Cabinet, at a meeting chaired by Prime Minister Manmohan Singh on Friday, cleared the proposal of Department of Space to put a satellite in an orbit around Mars to study the Red Planet, sources said.
If the mission succeeds, India will be the sixth country to do so after US, Russia, Europe, Japan and China.
The Indian Space Research Organisation (ISRO) is expected to launch a Mars Orbiter as early as November next year with a 25kg scientific payload. A rocket will blast off from the south-eastern coast of India, dropping the satellite into deep space, which will then travel onto Mars to achieve orbit, a senior scientist said. ISRO scientists expect the satellite to orbit at less than 100 km (62 miles) above Mars.
The Rs 450-crore mission is expected to be launched from India's spaceport - Sriharikota in Andhra Pradesh - and will take nearly 300 days to reach the Martian orbit.
The Mars mission, which will study its atmosphere, will be launched by an extended version of ISRO's warhorse rocket - the Polar Satellite Launch Vehicle (PSLV).
If the ISRO fails to launch the Mars Mission next year, other opportunities are available in 2016 and 2018. The orbiter will be placed in an orbit of 500 x 80,000 km around Mars and has a tentative scientific objective for studying the climate, geology, origin, evolution and sustainability of life on the planet.
Scientific payloads have been short-listed by ISRO's Advisory Committee for Space Sciences (ADCOS) review committee.
Baseline, solar array and reflector configuration of the satellite have been finalised.
The plan has drawn criticism in a country suffering from high levels of malnutrition and power shortages. But India has long argued that technology developed in its space programme has practical applications to everyday life.
India's space exploration programme began in 1962. Four years ago, its Chandrayaan satellite found evidence of water on the moon. India is now looking at landing a wheeled rover on the Moon in 2014.
Last year, a Chinese Russian probe failed in a bid to send a satellite to Mars.
(With agency inputs)