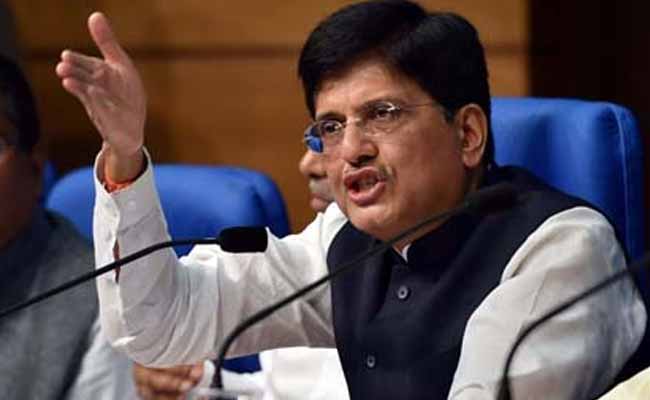 New Delhi:
Days of after the 'historic' agreement to curb green house gases was adopted in Paris, Coal and Power Minister Piyush Goyal today said India's share to GHGs is only 2.5 per cent while the developed countries contributed 20 per cent.
"India's contribution to green house gases is (only) 2.5 per cent with 17 per cent of world's population. Developed countries contributed 20 per cent with 5 per cent population," Mr Goyal said in a tweet.
India, he said, stands committed to working in participation with the rest of the world to ensure that renewable energy grows.
"While contributing to the growth of renewable energy, energy conservation and efficiency, we will make sure our development process does not get hampered," he said.
Stressing that India has one of the largest market opportunities for promoting energy products, the minister tweeted :"One billion people are waiting for affordable, quality power."
He at the same time exuded confidence that the international interest in the domestic energy market will get translated into huge investments into India.
"Our government's priority is to make India an energy efficient and energy sufficient country", he tweeted.
"We are committed to making India self-sufficient in every aspect of energy," the minister said.
He urged school children to become ambassadors of energy conservation and make their state sign the DELP programme.
"Need to include Energy conservation in the school curriculum. Every student, child can be an energy auditor in his school and home," he tweeted.
He further said that the procurement cost of LED bulbs has been brought down to Rs 72.60 per piece from Rs 310 in 16 months without compromising on quality.
"We are coming up with a program under Deendayal Upadhyaya Gram Jyoti Yojana (DDUGJY) to install solar streetlights in villages," he tweeted.
He said public, private and people participation are required to ensure success of government programs on energy conservation and efficiency.
After days of hectic negotiations, 196 countries adopted the 'historic' agreement to curb green house gases, in Paris.
A landmark climate change deal was clinched with the approval of India, China and the US, after days of tough negotiations with the legally-binding pact seeking to limit global warming to 'well below' 2 degrees Celsius and committing USD 100 billion a year from 2020 to help developing nations.