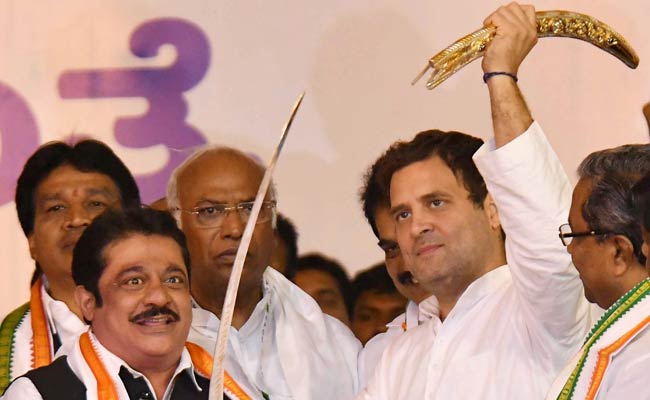 New Delhi:
Coming down hard on the centre, Congress president Rahul Gandhi on Sunday attacked the BJP-led government over a host of issues, including banking frauds, the situation in Jammu and Kashmir and foreign policy.
"Wherever you see around India, you will find China. You will find China in Nepal, Burma, Sri Lanka and Maldives... Once they were all India's friends, now they are China's friends", he said, addressing a rally in Mysuru in poll-bound Karnataka.
Targeting Prime Minister Narendra Modi several times during his speech, the Congress chief also referred to the standoff between Indian and Chinese troops at Doklam last year. "On Bhutan's land, China builds a road and a helipad and keeps a guard and the 56-inch person does not say a word."
Referring to the situation in Jammu and Kashmir, Mr Gandhi said during the rule of the Congress-led UPA government at the centre between 2004 and 2014, the "spine of terrorism had been broken". Neither civilians nor our soldiers were being killed then, he claimed.
"But for the sake of power, Modiji backed the PDP to form government and fueled the fire in Jammu and Kashmir. There is violence in Jammu and Kashmir, civilians and soldiers are getting killed but Modiji is not saying a word," alleged Mr Gandhi.
With assembly elections in Karnataka scheduled in April-May, the Congress president claimed that his party would give a tough fight to the BJP in every booth and defeat the party.
"It's a fight between ideologies. On one hand, we have BJP-RSS who have an ideology that creates conflict between religions. On the other hand, there is the Congress whose ideology unites this nation," he said.
Taking a swipe at the Janata Dal (Secular), the party of former Prime Minister HD Dewe Gowda, Rahul Gandhi asked it to answer to the people of Karnataka whether it was with the BJP. "In this election, the JD(S) stands for 'Janata Dal Sangh Parivar'," he said, on a day 10 rebel JD(S) lawmakers joined the Congress.
Alleging that the BJP-led central government had "destroyed" the banking system, Mr Gandhi attacked the Prime Minister over what he called "loot" of public money by celebrity designer Nirav Modi, business tycoon Vijay Mallya and former chief of Indian Premier League (IPL) Lalit Modi.
"Only one thing is being exported -- Nirav Modi, Lalit Modi and Vijay Mallya. Someone takes Rs 10,000 crore, another takes Rs 22,000 crore, but the watchman (PM Modi) only looks on," claimed Mr Gandhi.