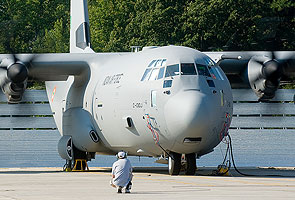 Washington:
The first of India's six C-130J Super Hercules airlifters, considered the world's most advanced transport aircraft, is being prepared for its maiden flight early next month.
The first C-130J that donned Indian Air Force (IAF) colours in June ran its engines for the first time Tuesday, its manufacturer Lockheed Martin said, releasing an image of the plane at its Marietta plant in Georgia.
Purchased from the US in a $1 billion deal, India's six stretched-fuselage C-130J-30s would provide the Indian Army and Indian Air Force "new special operations capabilities using the world's most advanced airlifter", according to Lockheed.
Equipped with India-unique operational equipment, including an infrared detection set (IDS), the aircraft for the first time will provide the IAF an ability to conduct precision low-level flying operations, airdrops and landings in blackout conditions.
To ensure 80 percent availability of the aircraft at any given time, Lockheed Martin has offered a long-term maintenance contract to the IAF on the lines of the ones it has with the US Air Force and the air forces of Australia, Britain and Canada.
The C-130J primarily performs the tactical portion of an airlift mission. The aircraft is capable of operating from rough, dirt strips and is the prime transport for air dropping troops and equipment into hostile areas.
The flexible design of the Super Hercules enables it to be configured for many different missions, allowing for one aircraft to perform the role of many. Much of the special mission equipment added to the Super Hercules is removable, allowing the aircraft to quickly switch between roles.
The C-130J Super Hercules, a four-engine turboprop military transport aircraft, is a comprehensive update of the venerable Lockheed C-130 Hercules, with new engines, flight deck, and other systems.
The aircraft can also be configured with the "enhanced cargo handling system". The system consists of a computerised loadmaster's station from where the user can remotely control the under floor winch.
The cargo compartment is approximately 41 feet long, 9 feet high, and 10 feet wide, and loading is from the rear of the fuselage. Initially developed for the USAF, this system enables rapid role changes to be carried out and so extends the C-130J's time available to complete tasks.
These combined changes have improved performance over its C-130E/H siblings, such as 40 percent greater range, 21 percent higher maximum speed, and 41 percent shorter take-off distance.
Get Breaking news, live coverage, and Latest News from India and around the world on NDTV.com. Catch all the Live TV action on NDTV 24x7 and NDTV India. Like us on Facebook or follow us on Twitter and Instagram for latest news and live news updates.