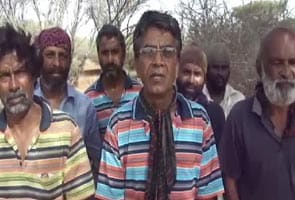 Thiruvanathapuram:
As part of continuing negotiations to secure the release of the seven Indian sailors of MV Asphalt Venture who are being held hostage by Somali pirates, top officials of the shipping company, OMCI, today met Kerala Chief Minister Oommen Chandy and other government representatives. The sailors have been in the custody of the pirates for a little over two years now.
The asphalt/bitumen tanker was hijacked by pirates on its way to South Africa from Kenya, southeast of Dar-es-Salaam in Tanzania on September 28, 2010. While eight of their colleagues were released along with the vessel in April last year following the intervention of the Mumbai-based shipping company, the seven sailors were held back as hostages.
The Kerala government says that there had been no demand earlier for ransom by the Somali pirates. But now they are demanding five million dollars and the release of the Somali pirates held captive in India in lieu of freeing the sailors. KC Joseph, Minister for Non-Resident Kerala Affairs Department (NORKA), told NDTV that the proposed exchange of Somali pirates in return for the captive Indian sailors was an option, a decision that would have to considered by the Government of India."The ransom money was not an issue but what is the guarantee that if the money is paid, the hostages would be freed," Mr Joseph said.
The Chief Executive Officer of OMCI, Taronish Khajotia, who was part of the meeting told NDTV that he was holding talks with the Kerala government on behalf of the family members of the hostages. On being asked about accusations that the shipping company had abandoning the sailors, Mr Khajotia said it was a complicated issue as the company had gone bankrupt. Interestingly, this is the first time that the shipping company has approached Kerala government over securing the release of the sailors.
Meanwhile, the sailors' families - three of who are from Kerala - have been running from pillar to post in the last two years, hoping for the release of their loved ones. The seven hostages had appealed to the Prime Minister, President and the Leader of the Opposition for help through a video uploaded on YouTube.