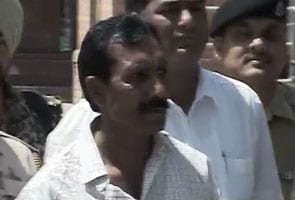 Chandigarh:
Gopal Dass, who returned to India last month after languishing in Pakistani jails for nearly 27 years, is on a mission to reclaim his lost years. The 52-year-old is now looking for a suitable bride and hopes to settle down soon.
"Gopal has undergone intense torture and trauma in Pakistan jails and obviously he is facing a hard time trying to come out of that ordeal. Though he is spending his time relaxing and meditating, things are still very difficult for him," Gopal's elder brother Anand Veer Dass said.
"He has his family around, but he also needs a life partner. Our talks regarding his marriage are on and we are hopeful of finalising something very soon. If everything goes as per our plan, then we will solemnise his marriage in the coming days," he added.
However, Gopal, who had earlier expressed his desire to join mainstream politics, was reluctant to talk about his matrimonial plans.
"Yes, I have many plans for my future but I do not want to make them public at this moment. These days I am very busy in some family work. But don't worry, we will inform you about everything at the right time," Gopal said.
Dass was only 25 when he was arrested in Pakistan in 1984 and jailed on charges of being a spy.
He spent the next 27 years in various jails in that country.
Gopal was set to be released by the end of this year. However, on March 27, Pakistani President Asif Ali Zardari announced he would be let off on humanitarian grounds - ahead of Prime Minister Yousuf Raza Gilani's visit to Mohali to watch the India-Pakistan World Cup semifinal on March 30.
He crossed into India through the Attari-Wagah border checkpost, about 30 km from the Sikh holy city of Amritsar April 7, from where he went to his ancestral village Bheni Mia Khan in Gurdaspur district of Punjab.
After his release, Gopal had condemned the Indian government and security agencies for not making any effort to secure his release.
"These days, he is not working because he is taking time to come in terms with life. At times he goes to our furniture shop just to pass his time. But after his marriage, we want him to start a business of his choice," Anand said.