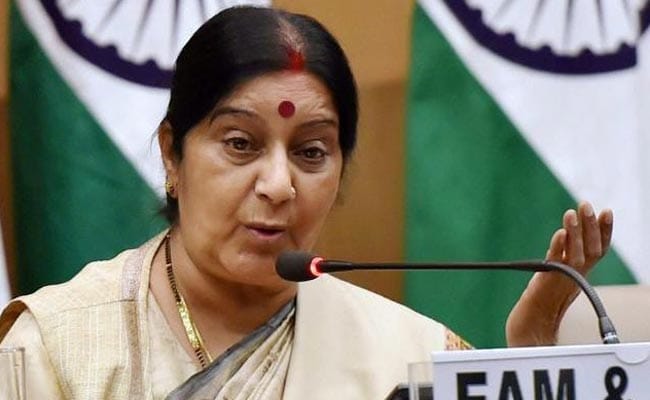 Colombo:
External Affairs Minister Sushma Swaraj today said countries in the Indian Ocean are responsible for its peace, stability and prosperity as she underlined the need to keep the sea lanes safe and secure. At the 2nd Indian Ocean Conference in Colombo, Ms Swaraj said if the revitalised maritime economy of the Indian Ocean region is to be a force for global economic growth, it is essential that the waters remain peaceful.
"It is imperative too, that all stakeholders abide by a rules-based global order," she said.
The Indian Ocean is one of the most critical maritime transportation links in the world today, with one lakh ships a year passing through these waters carrying about half of the world's container shipments, one-third of the world's bulk cargo traffic and two-thirds of oil shipments.
"The fact that three quarters of this traffic is headed for destinations beyond the region underlines... the Indian Ocean is of vital importance well beyond the shores of the littoral states," Ms Swaraj added.
For India, she said, the Indian Ocean is of vital importance -- the country has an extensive coastline of 7,500 kilometres and 90 per cent of India's trade by volume and almost all oil imports come via sea route.
"As we envisage the Indian Ocean as an engine for growth and prosperity in our region and beyond, it is of utmost importance that these waters remain safe and secure. We consider it an imperative that those who live in this region bear the primary responsibility for the peace, stability and prosperity of the Indian Ocean," she said, amid increasing forays by the Chinese Navy in the region.
Apart from establishing a naval base at Djibouti in the Horn of Africa, China is currently building ports in Sri Lanka's Hambantota and Pakistan's Gwadar. Chinese ships and submarines have appeared more frequently in the Indian Ocean in recent years.
"The challenge before us is to ensure intra-ocean trade and investment, and the sustainable harnessing of the wealth of the seas, including food, medicines and clean energy," Ms Swaraj said.
She said India has been the "first responder" to calls of assistance -- providing relief supplies and medical aid when flood hit Sri Lanka in June.