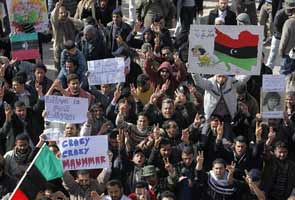 New Delhi:
India is sending three Naval ships to evacuate its citizens from Libya. 18,000 Indians are currently based in Libya, many of them work for construction companies.
Government sources say two destroyers and INS Jalashawa (USS Trenton) will be dispatched from Mumbai in the next few hours. They will take 12 days to reach Libya.
In the meantime, the government has hired a private cruise ship that was already in the region. It can accommodate 1200 passengers and is sailing now from Egypt to Benghazi, the centre of the revolt in Libya. Government and medical officials will be on board the ship to provide assistance.
After leaving Benghazi, the cruise ship, named the Scotia Prince, is expected to dock in Alexandria in Egypt by March 1. From there, the passengers will be flown to India on special Air India flights.
The Naval ships will be used to move Indians from Tripoli to Alexandria. 8500 people are to be evacuated by the navy from Tripoli, another 1500 from Benghazi.
Punj Lloyd, DS Constructions and Simplex Projects Limited are among the larger employers of Indians in Libya.
While smaller companies are keen to remove their workers, larger companies have told government officials that they'd like to wait for a week to see how the massive protests unfold. So far, Col Muammar Gaddafi has retaliated against demonstrators demanding his exit with unrestrained force.
Get Breaking news, live coverage, and Latest News from India and around the world on NDTV.com. Catch all the Live TV action on NDTV 24x7 and NDTV India. Like us on Facebook or follow us on Twitter and Instagram for latest news and live news updates.