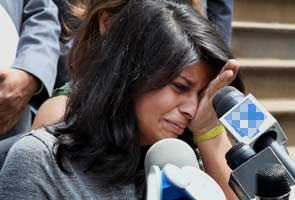 New York:
An Indian diplomat's daughter, who was jailed for a day on suspicion of sending obscene emails to her teacher, has filed a lawsuit against the city of New York and her school authorities seeking USD 1.5 million in damages for her wrongful imprisonment and suspension from school.
Krittika Biswas, 18, the daughter of Vice-Consul in the Consulate General of India in New York Debashish Biswas, was detained and arrested in February last year on the grounds that she had sent "offensive and sexually threatening" emails to her teachers in Queens's John Browne High School.
Ms Biswas's lawyer Ravi Batra filed the 118-page lawsuit, which has 10 federal counts and 16 New York state counts, in the US District Court Southern District of New York yesterday. The suit seeks at least USD 500,000 in compensatory and a million dollars in punitive damages, in addition to other relief.
The lawsuit is against 11 parties including the city of New York, the city's Department of Education and some of its officials, the principal and teacher concerned of Ms Biswas's school and New York City police commissioner Raymond Kelly.
"Hopefully, this lawsuit will aid all 1.1 million students in New York City schools to avoid false criminal charges and illegal suspension by NYC Department of Education when they are actually innocent, while helping commissioner Ray Kelly make NYPD even better," Mr Batra said in an emailed statement to PTI.
The case had garnered significant media attention and India had conveyed its concern to the US authorities over Ms Biswas's arrest and treatment. India's then-ambassador Meera Shankar had said the case had been taken up "very seriously" with the US government.
The lawsuit details the circumstances that led to Ms Biswas being handcuffed and her forced imprisonment for approximately 28 hours "for nothing."
Ms Biswas was "forced to be processed through the criminal justice system, and spent over 24 hours in jail without being allowed to meet her parents or visited by senior Indian diplomats. All of this occurred, despite her actual innocence as this was a case of mistaken identity," Mr Batra said.
It states that Ms Biswas was discriminated against and falsely accused of sending offensive e-mails because of her ethnicity.
The school and police authorities "selected Krittika for false arrest and detention, malicious prosecution, suspension and disciplinary treatment due to her race and ethnicity as an Indian of South east Asian descent," it said.
Ms Biswas was suspended from her school and has since returned to India, where she is pursuing her college studies.
The lawsuit said the student who was actually responsible for sending the emails to the teachers was not charged criminally nor arrested like Ms Biswas was.
"The defendants individually and collectively wrongly, falsely and unlawfully accused Krittika of crimes and bad acts... caused (her) detention and arrest while Krittika was actually innocent," the lawsuit said, adding that Ms Biswas was "emotionally traumatized" by her suspension from school and suffered physical injury due to her arrest.
According to the lawsuit, a police officer had threatened Ms Biswas that if she did not confess, she would "not graduate from high school" and would end up "in jail with prostitutes and people with HIV."