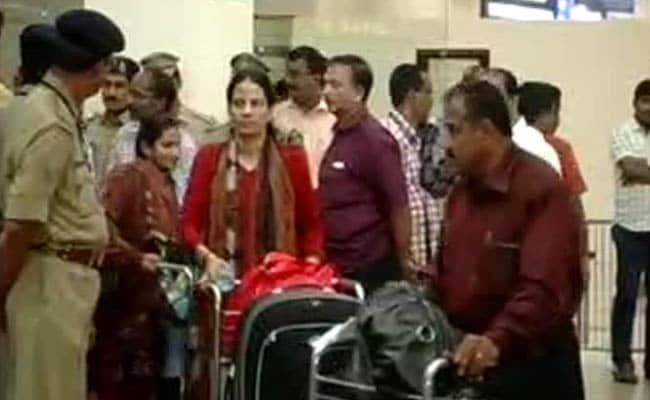 Kochi:
An Indian Air Force plane carrying 168 Indian nationals evacuated from Yemen landed in Kochi tonight in the government's first major mission to rescue Indians stranded in the strife-torn nation.

The Indian nationals, including nurses and workers, among others, reached home by the special flight--Indian Air Force's C17 Globemasters-- bringing an end to their about a week-long ordeal.

The flight landed at 2 am. The evacuees were welcomed at the airport by Kerala Minister for Diaspora KC Joseph, PWD Minister Ibrahim Kunju and Ernakulam District Collector MG Rajamanikyam.


They were part of as many as 350 Indians who yesterday reached at Djibouti after being evacuated on a Navy vessel from Aden, the seaport city of Yemen.
Parents of Jincy and Tincy, two nurses working with government hospitals in Yemen, are concerned about their elder daughter whose flight from Sana'a was cancelled even after a boarding pass was issued.
Talking to PTI from Kochi airport, mother of the nurses, Omana, hailing from Vadakkancherry of Palakkad district, said only Jincy, working in Aden, could reach home safely.
"We are happy that our daughter Jincy is coming back on the special flight. But we are concerned about the safety our elder daughter Tincy who is in Sana'a. We hoped that she would also be reaching safely tonight."
"Jincy could not come as the flight did not take off because of the last minute developments at Sana'a airport," said Omana who came to the airport along with her husband Soman to receive their daughters.
A Kerala government official said the Non-Resident Keralites Affairs (Norka) cell would give Rs 2000 each to the people who returned from Yemen at the airport besides providing them free transportation facilities to reach home.
A spokesperson in the External Affairs Ministry has said of 350 evacuees, 206 belong to Kerala, 40 are from Tamil Nadu, 31 from Maharashtra, 23 from West Bengal and 22 from Delhi besides other states.
The Indians were evacuated late on Monday night by INS Sumitra, which was diverted from its anti-piracy patrol in the region. It waited for hours to get local clearances as heavy fighting was reported in the city.