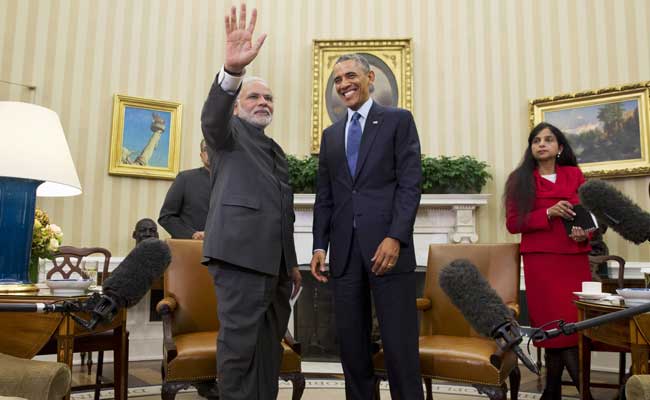 Washington:
India and the US on Wednesday resolved to deepen cooperation in cyber security space and engage on issues concerning internet governance.
The complete framework for the US-India Cyber Relationship is expected to be signed within two months.
During their meeting, Prime Minister Narendra Modi and US President Barack Obama emphasised that cyberspace enables economic growth and development, and reaffirmed their commitment to an open, inter-operable, secure, and reliable internet, underpinned by the multi-stakeholder model of internet governance.
"They committed to deepening the cooperation on cybersecurity and welcomed the understanding reached to finalise the framework for the US-India Cyber Relationship in the near term," said an India-US joint statement.
The leaders committed to enhance cyber collaboration on critical infrastructure, cybercrime, and malicious cyber activity.
They have committed to continue dialogue and engagement in internet governance fora, including in ICANN, IGF and other venues, and to support active participation by all stakeholders of the two countries in these fora.
The leaders affirmed their commitment to the voluntary norms that no country should conduct or support online activity that intentionally damages critical infrastructure or otherwise impairs the use of it.
They also pledged that no country should conduct or support activity intended to prevent national computer security incident response teams from responding to cyber incidents, or use its own teams to enable online activity that is intended to do harm.
They also vowed that no country should conduct or knowingly support ICT-enabled theft of intellectual property, including trade secrets or other confidential business information, with the intent of providing competitive advantages to its companies or commercial sectors.
Cooperation on cyber issues is a key component of the bilateral relationship between India and the US. Both sides recognise the value of enhancing their broad-based cooperation on cyber issues, and in that respect, intend to complete a framework based on the following shared principles and intended forms of cooperation.