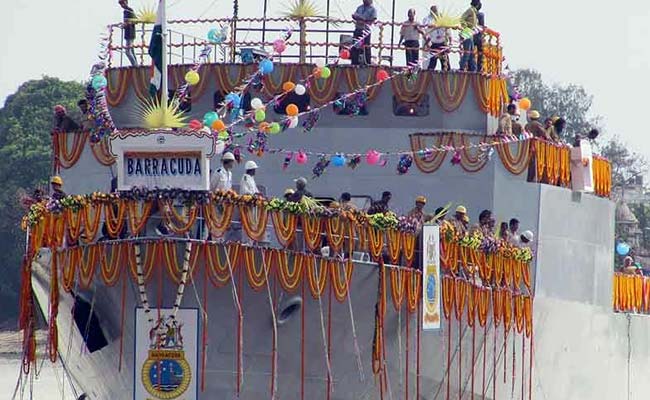 New Delhi:
India is all set to sell warships to Vietnam - a country locked in territorial with China.
Garden Reach Ship Builders and Engineers or GRSE - a Kolkata-based Defence Public Sector unit - will supply warships to Vietnam. This will be the second export of warships for India. It is already selling a patrol ship - Coast Guard Ship Barracuda - to Mauritius at a cost of Rs 350 crores. (
Meet the Barracuda - the First Warship India Will Export
)
Besides, it is also in the race to export two light Frigates - about 3500 tons each at a total cost of Rs 2000 crore - to The Philippines.
The forays of the Indian Ship builder in the Indian Ocean and the disputed South China Sea are not mere commercial. The sale has strategic implications as well as the exports will spread Indian footprints across the region. Vietnam, the Philippines and four other countries are locked in a high decibel and international watched territorial dispute with China in the South China Sea. India has oil drilling blocks off the Coast of Vietnam and has ramped up military training including that of Submariners and Sukhoi-30 fighter pilots.
"The sale of at least four patrol vessels comes as part of the $100 million credit line for military extended to Vietnam by India," Rear Admiral AK Verma (retd) Chairman and Managing Director of GRSE said.
These patrol vessels will be about 35 meters in length, 10 meters broad and will have specialized Aluminum Hull. They will be used to patrol the waters close to the shore. Vietnam needs at least seven more such ships and GRSE is expected to get the order for the rest of the ships as well.
For the Philippines order, GRSE is competing with six foreign ship yards - Navantia, Spain, STX, France and Hyundai, Daewoo, and STX from Korea.
"We have been looking out to export ships for about a year and half, however under the Modi government there is more urgency and stress on exports," a senior GRSE officer told NDTV explaining fresh forays of the shipyard to foreign shores.