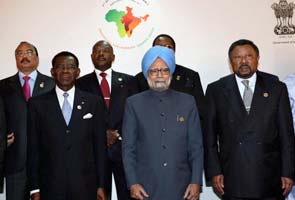 Addis Ababa:
Prime Minister Manmohan Singh told African leaders on Tuesday that India will make loans to nurture economic growth on the continent where China is already a big step ahead.
The south Asian country will notably offer African nations $5 billion (3.6 billion euros) in credit lines over three years, he told a trade summit here.
"Africa possesses all the prerequisites to become a major growth pole of the world in the 21st century. We will work with Africa to enable it to realise this potential," Singh said.
"I'm happy to announce that India will continue to support efforts at infrastructure development, regional integration and capacity building and human resources development in Africa," the Prime Minister said.
He said India will offer five billion dollars of credit lines to African nations over the next three years.
At the last India-Africa summit in New Delhi in 2008, India offered 5.4 billion dollars in concessionary credit lines over a five-year period.
Some of the human resources projects India has set up on the continent and plans to develop further include the India Africa Institute of Foreign Trade in Uganda, the India-Africa Institute of Information Technology in Ghana, the India Africa Diamond Institute in Botswana, and the India-Africa Institute of Education, Planning and Administration in Burundi.
"In the three years since the first India-Africa summit, Indian trade and investment in Africa have significantly increased," noted Alex Vines of the London-based think-tank Chatham House in a report last week.
Last year, India's imports from Africa were worth $20.7 billion, compared with $18.7 billion the previous year, and its exports stood at $10.3 billion the same year.
India's investment in Africa is mainly in the private sector, notably in telecommunications, pharmaceuticals and manufacturing.
But those numbers are small compared with the Chinese presence. China has mainly built infrastructure projects in exchange for access to resources, and its bilateral trade with the continent in 2010 totalled $126.9 billion, according to official figures.
Africa, despite being home to most of the world's poorest countries, is richly endowed with minerals, oil and other natural resources.
India has been looking to diversify its energy sources and reduce its dependency on the Middle East which supplies two-thirds of its energy imports.
The 2008 India-Africa summit saw India give preferential market access to exports from all the Least Developed Countries, many of them in Africa, as well as increase credit lines to Africa.
India also aims to bolster its diplomatic and security presence in Africa.
In 2008, its navy joined the anti-piracy patrols in the key shipping routes of the Gulf of Aden and the Indian Ocean where rampaging Somali pirates continue to hijack merchant vessels.
Both regions also back each other for a permanent seat at the UN Security Council under envisaged reforms of the world body.
On leaving the Addis Ababa summit Singh will make an official visit to Tanzania, where India has investments worth $1.3 billion (915 million euros).
India has also come in for criticism from rights groups and the west, although to a lesser extent than China, for not making its projects on the African continent conditional on its partners' human right records.