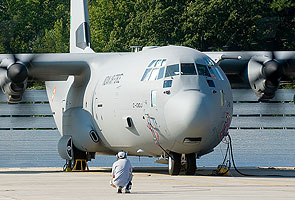 New Delhi:
India will buy six more C-130J Hercules medium lift aircraft from the United States of America. These aircraft will be positioned at Panagarh in West Bengal and will be largely dedicated for operations along the India-China border.
The six new C-130J Hercules will cost India an estimated Rs 4000 crore.
The decision to buy the additional six aircraft was taken by the Defence Acquisition Council (DAC) - the highest decision making body on purchases of the Ministry of Defence - today. The DAC also cleared the acquisition of another 230 odd Russian made T-90 tanks at a cost of Rs 6000 crore. These will be produced by the Heavy Vehicles Factory Avadi in Tamil Nadu.
India already has six C-130J aircraft, some which are equipped for special operations. They are based at the Hindon Airbase on the outskirts of Delhi. The first lot of six aircraft, bought in early 2008, came at cost of about 1.059 billion dollars (approx Rs 4,500 crore).
Panagarh is the Headquarters of the newly created Mountain Strike Corps. The C-130J Hercules aircraft can carry about 20 tons at one go and has ability to land at make-shift landing strips.
"With its ability to land almost anywhere, the additional C-130J will give the Mountain Strike Corps ability to move around troops and rush reinforcements along the front at a very short notice," a senior Ministry of Defence official said. Recently the C-130J Hercules landed at the Daualt Beg Oldie Advanced Landing ground in Ladakh creating a world record of sorts for this category of transport planes.