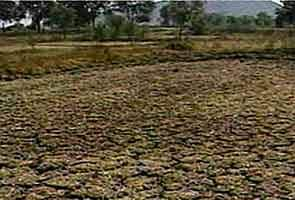 New Delhi:
Many states across the country are now reporting deficient rainfall this year, and the government might have to announce a drought within a fortnight.
Monsoon rain, the lifeline of Indian agriculture, has been deficient by a worrying 22 per cent so far this year; the situation is critical in Karnataka and central Maharashtra. The Met department's forecast holds out no great hope either. Average rain for the season has been pegged at 96 percent of the long-term average. Rain less than 90 percent of the long term average would be a drought situation - last seen in 2009, when India had to import sugar, pushing global prices to 30-year highs.
The deficient monsoon this year has already affected the sowing of Kharif crops, mainly paddy, pulses, coarse cereals and oilseeds. The Centre and the states are now gearing up with contingency plans. Prime Minister Manmohan Singh has already reviewed the foodgrain stock situation.
"Sharad Pawar has said in a newspaper that we are worried about the monsoon. Monsoon condition is a worry. Till now, monsoon has not been normal, now we don't know how much it will recover in July, but agriculture ministry is taking preparatory steps, so that the normal negative effect of this monsoon will be reduced. Now, let's see how it goes," Montek Singh Ahluwalia, Deputy Chairman, Planning Commission said on Thursday.
Agriculture Minister Sharad Pawar had recently said that the country had not reached the drought situation yet, but he also cautioned that it was a challenge to sustain the record food production achieved by the country in the last two years. Food Minister KV Thomas also spoke this week about a likely cut in output of rice, which accounts for 70 percent of the total summer crop, and lentils. Mr Pawar described the monsoon as "playing hide-and-seek".
The government, though, has said that there is no cause for alarm over domestic supplies as the country is sitting on massive stockpiles of rice and wheat - at a record 82 million tonnes - after bumper harvests. The country is currently exporting wheat and rice due to the record output. But a drought - officially recognised if monsoon rainfall is less than 90 percent of a 50-year average of 89 centimetres - could mean India curbs export of rice at a time when a severe water shortage in the United States is pushing key global grain prices higher.
June and July rains bring about 50 percent of the total monsoon rain. This is the main source of water for 55 percent of arable land in India without irrigation. The country, Asia's third-largest economy, looks to farming for 15 percent of its wealth.
(With agency inputs)