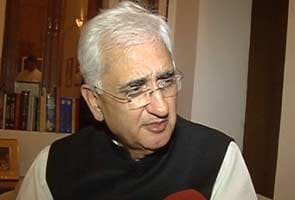 New Delhi:
Indian Foreign Minister Salman Khurshid on Thursday signalled the country would soon stop receiving aid from Britain after holding talks with William Hague, his counterpart from London.
The 450-million dollars that the former colonial ruler gives annually to fast-developing India has become a contentious issue for the British government, which is expected to announce shortly that the funding will be cut.
"Aid is the past and trade is the future, so we are looking to the future," Mr Khurshid told reporters in New Delhi after meetings with Hague.
"We discussed a lot of trade, investment and cooperation issues and I think that is how we see our relationship grow."
Mr Hague said he had raised the issue of aid with Indian government officials during his trip, and Britain's International Development Secretary Justine Greening was about to announce a change in government policy.
"The governments of the UK and India are agreed on the way forward on this issue and my colleague will make a statement about this in the very near future," he said.
British newspapers have reported that Mr Greening, who was also in India this week, would announce that the aid budget for India would be halved and then cut completely by 2015.
Britain has made intense efforts to expand trade with India, but was stung in February when New Delhi announced a big contract to buy French warplanes instead of the UK-backed Eurofighter Typhoon.
Even though tens of millions of Indians live in poverty, the country has enjoyed two decades of economic growth and also funds its own space programme.