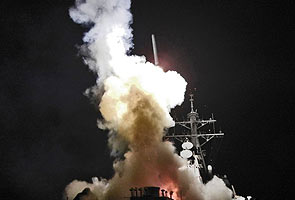 New Delhi:
American and European forces began a broad campaign of strikes against the government of Col. Muammar el-Gaddafi on Saturday, unleashing warplanes and missiles in a military intervention on a scale not seen in the Arab world since the Iraq war.
A statement by the Ministry of External Affairs in India regretted the air strikes that are taking place.
Here is the complete statement:
India views with grave concern the continuing violence, strife and deteriorating humanitarian situation in Libya. It regrets the air strikes that are taking place. As stated earlier by India, the measures adopted should mitigate and not exacerbate an already difficult situation for the people of Libya.
It hopes that this would not lead to greater harm to innocent civilians, foreign nationals and diplomatic missions and their personnel still in Libya.
India calls upon all parties to abjure use of or the threat of use of force and to resolve their differences through peaceful means and dialogue in which the UN and regional organisations should play their roles.
New Delhi
March 20, 2011