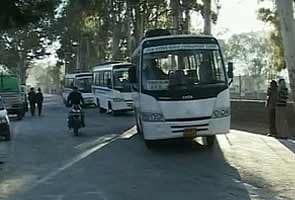 Jammu:
Cross-border bus and trade services between India and Pakistan have resumed today from Poonch in Jammu. Both services were suspended after the recent escalation in tensions between the two countries along the Line of Control (LoC) after two Indian soldiers were killed by Pakistani troops on January 8.
Sources say that stranded passengers will be given priority. Over a 100 people from Pakistan Occupied Kashmir (PoK) are reportedly stranded in Jammu and Kashmir and several people from this side of the border are waiting to return from PoK.
Islamabad suspended the services between the Poonch sector in India and Rawalakot on its side of the LoC on January 11, citing tension in the region.
The cross-border bus service was first launched in 2005, and the truck service to facilitate trade began in 2008. Vegetables and fruit are bartered every week at designated trade centres along the LoC and the suspension of the service has hit traders on both sides of the border.
Meanwhile, in keeping with tradition, Indian and Pakistani troops exchanged sweets along the LoC in the Poonch sector to mark India's 64th Republic Day on Saturday. Indian and Pakistani soldiers exchanged sweets at the Chakan-da-Bagh cross point as a goodwill gesture, army officials said.
They added that a flag meeting was also held between the two sides on Saturday and that it was cordial. The Indian side was represented by Col PDS Bal and Major SS Sehgal and the Pakistani side by Lt Col Javid and Major Yasin.
Personnel from India's Border Security Force and Pakistani Rangers also exchanged sweets at Suchetgarh on the International Border in Jammu district. Troops from both sides traditionally exchange sweets and greetings on Independence Day, Republic Day, Diwali and Id.
(
With PTI inputs
)