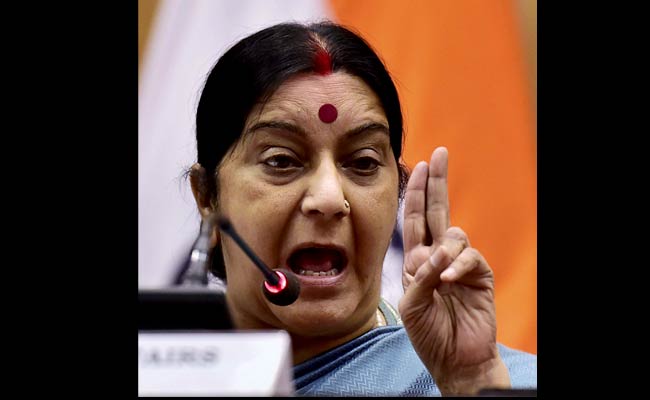 New Delhi:
Foreign Minister Sushma Swaraj has given Pakistan a midnight deadline tonight, to assure India that it will not meet the separatist Hurriyat conference and will restrict the agenda of the NSA talks on Monday only to terrorism. Mrs Swaraj addressed a press conference just hours after Pakistan's NSA Sartaj Aziz said he was ready to travel to India for talks, but without any pre-conditions.
In reply to NDTV's question at her press meet, Mrs Swaraj said talks would be called off if Pakistan did not agree to the terms set by India. She said "there will be no talks," when asked what would happen if Pakistan did not accept the position outlined by her. She said these were not pre-conditions.
She said "India is not running away from talks. We want to talk on terror. We wanted to create an environment where we could have a resumed dialogue later on all issues but only when terror stops first. Now they are expanding the agenda, then inviting Hurriyat. What about the Shimla agreement? It's a bilateral matter, there is no room for a third party."
Earlier in his press conference in Islamabad, Mr Aziz said "it is India that has imposed new conditions that Pakistan cannot meet Hurriyat leaders, assuming the right to determine the guest list of for the High Commissioner's reception".
He threw the ball back in India's court and said he was ready to come but with no conditions attached.