Nearly 20 million rural households in Uttar Pradesh have no access to electricity.
Over 90 per cent rural households in 5 districts of Uttar Pradesh are unelectrified. (Source: Census 2011)
In Hardoi district of Uttar Pradesh, private diesel generators power the rural economy. Noisy, polluting and expensive. The state electricity grid has reached some areas, but there is a chronic shortage of power. Those with connections get only a few hours of supply in a day and almost never during peak hours. Businessman Pradeep Kumar Shukla had to produce his own electricity when he set up a petrol pump near Pipargaon village. The village is 110 km from Lucknow. "When we started the petrol pump, there were so many power cuts that we had to totally depend on generator sets. These filling machines are computerised and cannot be operated manually. It cost Rs 1.25 lakh to install the generator and we spent an additional Rs 18,000 a month to run it," Mr Shukla Said.
Most of the 60 odd branches of Grameen Bank of Aryavrat in the district depend on diesel power. As do telecom towers, hospitals, colleges, small shops and other businesses.
But now that is changing. Companies based on renewable energy are bringing in a clean and reliable solution to these remote villages. One of these companies is Omnigrid Micropower Company or OMC. Founded by three former Ericson employees, OMC set up its first solar power plant in Jangaon village in Hardoi district three years ago. They received an overwhelming response and today they have 70 plants in Uttar Pradesh. Each plant has a capacity between 50 and 100 kw and each has a grid about one to 5 km long.
At the Pipargaon plant, we meet Rohit Chandra, Managing Director, OMC. He says the plant was commissioned eight months ago. "This place was taken on lease. The size of the plot will be about 900 sq m on an average and the technology has advanced so much that you can package a lot of solar power in a panel these days, which means you'll require a smaller footprint. So, a size like this is good enough to take you to about 100 kilo watts. We have a large storage bank here where we store power. And every of the plant has about 300 amp hour of storage. So when the sun goes away in the evening, the batteries are charged and able to give energy after sunset. From here the energy goes into inverters and rectifiers and is pumped on a 24X7 basis. The inverters are used for converting DC to AC to 130 volts," Mr Chandra said.
When this plant's distribution network increases, it will cover nearly 2,000 households and small businesses. Mr Shukla's petrol pump has an OMC solar power connection. Instead of the Rs 18,000 a month he previously spent on diesel, he now spends only Rs 4,000. "My electricity problem is fully solved. The company has stuck to its commitment of providing 24/7 power supply," he said.
Shri Jagdev Singh Mahavidyalaya, a rural college, draws power from the plant at Attrauli. Students can now use the computer lab. A shopping complex is coming up near the Attrauli plant. Centred around the promise of uninterrupted solar power supply are ambitious plans to open a cyber cafe and tractor agency. The Jangaon branch of the Gramin Bank of Aryavrat is also an OMC customer. "We now spend around Rs 3,000 a month. Earlier we would have to spend nearly Rs 15,000 on the generator. The advantage is there is no noise pollution and air pollution," Gramin Bank branch manager Ram Narayan Prajapati said
It all started with what was for OMC a clear business opportunity. There are nearly 5 lakh telecom towers in the country.50 per cent of them in rural areas. Most of them relied 20 hours a day on diesel generators. Telecom towers are one of the largest consumers of diesel in the country, consuming around 2 billion litres of diesel every year.
OMC entered into an agreement with telecom companies, setting up their plants near the telecom towers to provide them solar power. Telecom towers no longer have to maintain generators or hire people to run them.
The company calls it an ABC business model that is sustainable and scalable. A stands for the anchor load which are the telecom towers, B denotes the small and medium enterprises and C is the community, a majority of whom are below the poverty line. The A and B segments help in giving affordable services to C. Product packages have been designed for each segment in the village. Smart metering allows OMC to prefix loads and timings. The community pays for the subscription in advance. Rs 110 a month gives them one 7 watt LED light from 5 pm to 11 pm and a mobile charging socket.
From 24 hour metered supply to the richest individual in the village to bite sized packages for the poorest consumers, there are packages that are relevant to each one.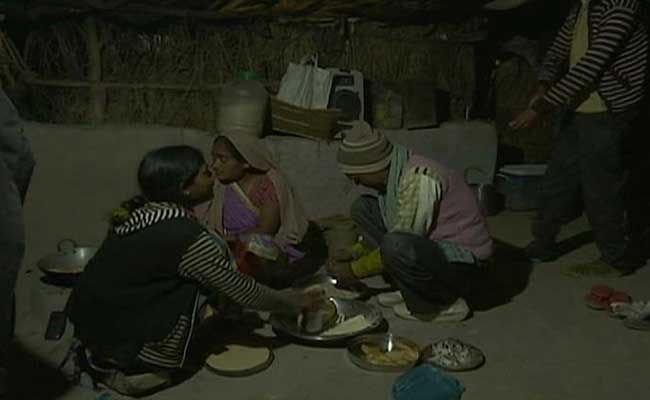 At the busy Attrauli crossing, nearly 40 shops selling a variety of fruits, medicines, snacks and sweets have lights powered by the OMC grid. They said they would use battery operated lights till they got the LED lights from OMC that were brighter. Charging the batteries was a challenge.
Near the crossing, we come across three shacks lit by LED lights. In one of them 18-year-old Manisha is busy at work on her home science assignment. She says she would like to train as a teacher and the lights are helping her to study whenever she wants. "It's been 3 months since this light was installed. It is now easy to cook food, as well as to study. We no longer face any problems," the young student said.
However, there is another contradictory reality of families who live at subsistence level and cannot pay 100 odd rupees a month. At Jangaon village, we meet Nirmala as she cooks the evening meal using a kerosene lamp. She says they are unable to install OMC because there was never any money to spare. They ate only when they earned.
"I have small kids and my husband works as labour. We have to buy everything from the market since we don't own any land," Nirmala said.
In the next six months, OMC is planning to double its capacity from 2.5 megawatt to 5 megawatt, making it one of the largest solar mini grid operators in the state. Their grid is reaching high density areas, where there is economic activity. However, the activity is mainly non-agricultural. It is expensive to extend the grid to agricultural fields that are usually at a distance from the village and presently pumps used for irrigation are not being powered by OMC. Where the grid does reach, customers can get continuous power supply. The plants use diesel generators as a backup for those days when there is low solar power generation due to rains or fog.
According to the Ministry of New and Renewable Energy (MNRE), the ideal solution is to produce locally and distribute locally. It is extending support to private rural energy service providers like OMC. According to G Prasad, Director, MNRE, the government is extending a fixed capital subsidy which is approximately 25 per cent to 30 per cent of the total amount. "The remaining equity they have to bring on their own, maybe at the commercial rate of interest. Since they have to take bank loans, they have to maintain this as a commercial venture. Otherwise they can't survive. After five years they have to replace the battery, they have to maintain the plant, pay salaries. They have to make profit as a company. This is the model we envisage."
OMC is a for profit company with a significant social impact. What is interesting is that it is attracting funds from the commercial space as well as the social impact space.
For instance, Smart Power India, a new non-profit entity set up by the Rockefeller Foundation. With the help of a $75 million grant, it is helping companies such as OMC and others to set up mini grids to serve 1,000 villages in the next three years. "The philanthropic capital acts as a catalyst to allow this industry to emerge and sustain itself and yet at the same time allow for it to be a completely competitive source of power to go to the communities. It is a capacity enablement entity to provide the requisite support to market proponents. It is a kind of trying to create a platform in which a wide variety of mini grids can operate," cKinetics Managing Director Upendra Bhatt said.
Private players have shown an increasing interest in solar mini grids in the last 4 years. There are multiple models operating in the state.
Some offer small solutions like pico grids which are of less than 1 kilowatt capacity and are usually DC systems. Others deploy micro grids which have a capacity between 1 kilowatt and 10 kilowatts. The Boond energy company deploys micro grids with less than 2 kilowatt capacity. "A 2 kilowatt microgrid system will electrify 40 to 45 houses and each house will get 2 to 3 LED lights and 2 plug points, one for a mobile and one for any other appliance. They would get a peak load of 40 watts. Some of our microgrids are owned by another person. We facilitate a bank loan for buying hardware as well as software and the person pays the EMI to the bank. So the goal is what he collects from 40 houses. Let us say he collects Rs 100 from 40 houses that Rs 4,000 should pay off his EMI and a profit for him. We believe that this is a model to grow and it is extremely scalable and it gives income to someone from the community." Boond Engineering and Development CEO Rustam Sengupta said.
Another company, Ren-en-gen, has joined hands with an NGO to launch a 10 kw micro grid in Sitapur district. It offers 3 LED lights and a mobile charging point for Rs 150 a month. According to Ren-en-gen, villagers were earlier using kerosene that cost them Rs 250 a month. They also had to walk miles to charge their mobiles, for which they paid Rs 10 an hour.
"Ren-en-gen made their own investments, along with the NGO, Sankalp Samarpan Samiti, and another investor, SCT. From the business point of view, the break-even may come somewhere around the 7th, 8th or 9th year, but what was important was the social impact and how it would lead to the growth of the rural economy. Right from the design innovation up to the operation, the plant is maintained by Ren-en-gen. At the same time what we did was train 3 local guys to handle the maintenance and daily collection from villagers," Ren-en-gen Solutions Chairman Santosh K Lalwani said. In Kannauj district, the state government has set up a 250 kw solar mini grid to power villages. It is able to run flour mills and agricultural pumps. However, a key challenge for government owned projects is long term operation and maintenance by the contractor. The tariffs charged are low and unviable and the contractor does not sustain interest in the project.
For private rural energy service providers, who want to run a professional operation, the absence of a national or state level policy on mini grids leads to uncertainty. A 50 kw solar plant with a distribution grid can cost up to Rs 1 crore. Since mini grids are not viewed as infrastructure, long tenure financing is a big challenge. If and when banks extend loans, they do so at high commercial lending rates. There is no tariff parity between mini grids and central grids. Central grid consumers get a host of hidden subsidies that make tariffs lower for them. The sector needs a great deal of investment and for investors to come in the state government needs to come out with a clear cut policy on mini grids. For one, there is no clear direction regarding the government's electrification programme.
According to Debajit Palit, Associate Director, TERI, "So you set up mini grids in rural areas, and tomorrow the central grid extends to those areas. How do you interconnect your mini grid to the main grid and feed power to the main grid at a power purchase agreement? Or take power from the main grid in case there is a deficit from your mini grid system? There is still lack of clarity on how to do that in terms of both the technical consideration and also in terms of a proper exit mechanism for the mini grid developer. I think these are some of the challenges which are not allowing the scaling up of mini grids in India even though India has a huge potential for mini grids."
To promote greater private investment in this sector, the Uttar Pradesh government is coming out with a comprehensive mini grid policy. It will be the first state to do so. According to Parth Sarthi Sen Sharma, Secretary, Non-Conventional Energy and Secretary to the Chief Minister, Uttar Pradesh, "One of the challenges is to balance the interest of the consumers and the interest of the investor. One challenge would be if the grid comes with sufficient number of hours of electricity and the villagers are no longer wanting this investor's micro grid, then what kind of comfort can be given to the investor? How do we select the investors? There may be some villages in which it is just not commercially viable. In that case, how is the viability gap to be met by the Government? And if we are meeting the viability gap, we need to have a transparent system in place to select the investors.
Mr Sen Sharma also struck a note of caution, saying, "Whenever we are talking about increasing the share of alternative energy, and this is a worldwide discussion, the two major points in my mind is still the difference between the price of conventional and non-conventional energy and the grid stability. Alternative power typically requires some hours of production and some hours of non-production. Therefore, we can go up to a particular limit, but we cannot wish away conventional power. That will remain the mainstay in my opinion."
Mini grid proponents believe this could be the view in the rearview mirror. But for those looking ahead, the picture is different. A renewable energy ecosystem is emerging even as Prime Minister Narendra Modi has announced the installation of 100 gigawatts of solar power by 2022. Innovative business models will lead to increase in scale and with the development of technology, solar energy is likely to become cheaper. The technology is robust and allows it to be integrated to the central grid based on conventional energy. With the support of an enabling policy, mini grids may be the best way to reach the over 300 million people in the country who are waiting for power.